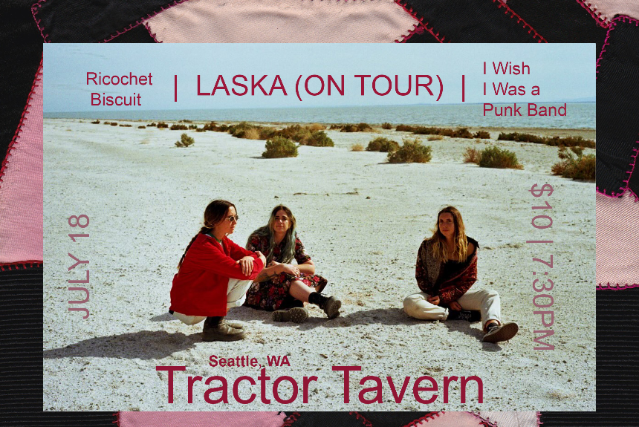 Mon Jul 18 2022
8:00 PM (Doors 7:30 PM)
5213 Ballard Avenue NW
Seattle, WA 98107
Ages 21+
Follow us on Twitter @tractortavern
Cancelled: Ricochet Biscuit w/ Laska & I Wish I Was A Punk Band
I Wish I Was A Punk Band is the solo expression of multi-instrumentalist Phil Hamilton. Originally from North Carolina, Hamilton has been a part of the Seattle music scene mostly as a drummer with artists like DATENITE and Young Chhaylee.

This solo endeavor allows a new medium for vulnerability and escapism for Phil and his audience. Utilizing drum machines and stark vocal effects, he crafts intricate soundscapes under vague melodic threads to create dreamy bedroom pop. His songs pull on wisps of nostalgia as they explore the memory distortions and biases of one's youth.

In response to a surge in the number of cases of COVID-19, we have changed our entry guidelines for upcoming shows. Please view our website for the most updated information.

https://bit.ly/TractorCOVIDGuidelines

Highlights:

*Masks required while inside until 3/12/22. After that date, we still highly encourage you to wear a mask. Please be respectful of those that do!
Follow us on Twitter @tractortavern
Cancelled: Ricochet Biscuit w/ Laska & I Wish I Was A Punk Band
Mon Jul 18 2022 8:00 PM
(Doors 7:30 PM)
Tractor
Seattle WA