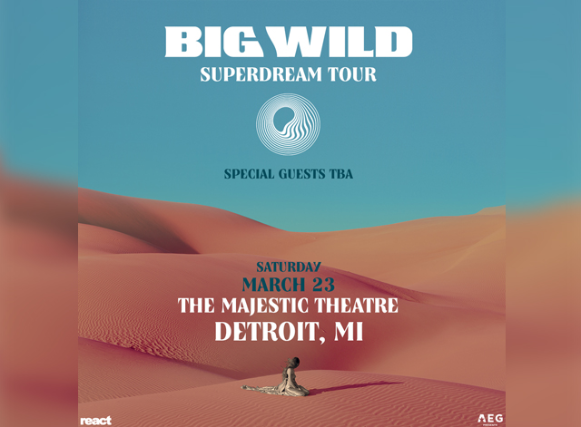 Sat Mar 23 2019
8:00 PM Doors
4120 Woodward Ave.
Detroit, MI 48201
***SOLD OUT***
All Ages
AEG & React Present
Big Wild,
Robotaki,
Mild Minds
As Big Wild, producer Jackson Stell crafts lush soundscapes and sweeping melodies that challenge the status quo of electronic music. Formerly a hip-hop beat producer, known as J Beatz, in his native Massachusetts, Stell switched creative lanes following a life-altering trip to Big Sur, California. He adopted influences from the state's natural glory and open spaces to create the atmospheric and wide-spanning Big Wild sound, which today traverses electronic, indie, pop and beyond.

Since officially launching in 2012, Big Wild has become one of the fastest-rising dance/electronic artists in recent years. He first broke out in April 2015 with the incendiary track "Aftergold" (Foreign Family Collective), which topped the Spotify Global Viral Chart upon release. He followed the success of "Aftergold" with his debut EP, Invincible, in February 2017 (Foreign Family Collective).

As the next progression, in February 2019 Big Wild will release his debut album, Superdream, on Counter Records. The new album sees Stell pushing the boundaries as a producer and artist like never before, as he serves as the primary lyricist, singer and songwriter for the first time ever. Each song is diverse in sound and scope and represents the full spectrum of emotions and experiences that are central to the essence of being: in one moment, you're dancing out of your seat, only to find yourself in joyful tears seconds later. The album title, thus, reflects this amalgamation: a super dream combining all of life's curious, inspiring occasions. The album's first two lead singles, "Joypunks" and "Maker," are out now, with additional tracks to be released in the coming months.

"The album was inspired by a need to create music that was a greater reflection of who I am now," Stell says of Superdream. "This led me to feature my voice and songwriting as the main focus for the first time ever. I wanted to create a personal record that people could relate to using my own life experiences. When I listen to Superdream, it feels more like me than any of my other music."

As a performer, Big Wild is one of the most progressive live acts on the electronic circuit today. His live show has him switching between multiple instruments (drum pads, synths, keyboards & live vocals) to deliver unique energetic performances every night. Coinciding with the release of Superdream, Big Wild will kick off a 17-date 2019 headlining tour across the US, which will bring the Superdream album experience to the stage via a brand-new live show. www.bigwildmusic.com

There is a lot more behind the name and the mask than most people may perceive. Coming in to the spotlight with his top-tier remix work, and being recognized for his impeccable sounds, Preston Chin, the man behind the moniker has prepared himself to take on a much greater task. A task that entails enveloping the world with a powerful new take on funk and disco. A responsibility to brighten peoples days and to make people dance. A quest to bring a fresh musical experience to humans that has never been done before.

After months in the studio crafting and harnessing forward thinking new sounds and ideas, Robotaki is now armed with an arsenal of exciting original material. Material that will change the world with its superior production. Records and experiences that will lead listeners to question, is he super human?
AEG & React Present
Big Wild,
Robotaki,
Mild Minds