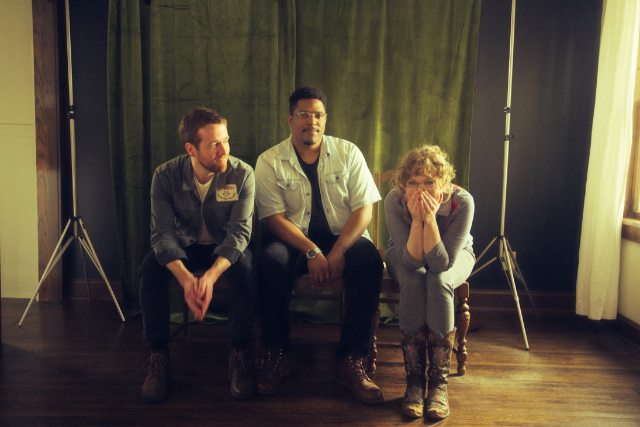 Thu Nov 2 2023
8:00 PM - 11:00 PM (Doors 7:00 PM)
3509 Lemp Avenue
Saint Louis, MO 63118
$15.00
All Ages
Barbaro

THU. November 2, 2023
Doors 7PM | Show 8PM
$15
BARBARO FORGES AN ADVENTUROUS MUSICAL PATH ON ABOUT THE WINTER, THEIR CAPTIVATING SOPHOMORE ALBUM DUE OCTOBER 20TH ON STORYSOUND RECORDS

The Minneapolis-based group delivers an enchanting acoustic-rooted sound that redefines string music traditions

Barbaro describes their second album, About the Winter, as their coming-of-age story – and rightly so. While their 2020 debut, Dressed In Roses, was warmly received, particularly in the bluegrass world, Barbaro knew that their follow-up needed to more authentically reflect the group's expansive sound. "We all wanted to push ourselves for this album," explains the band's co-founder Kyle Shelstad. The album reveals "the sacred transfiguration of our many personal and musical influences into something greater than the sum of its parts."

About the Winter (arriving October 20 via StorySound Records) provides a confident expression of Barbaro's musical evolution. Its ten tracks are built around the unique interplay between guitarist Shelstad's string band roots and the more classical music backgrounds of violinist Rachel Calvert and bassist Jason Wells, while also inventively integrating electric elements, like synths and electric guitar. The result is a pastoral Americana sound that feels both traditional and progressive.

Calvert, Wells, and Shelstad all identify the title track "Let's Talk About the Winter" as the song that established the album's tone because, in Wells' words, "it fully captured the soundscape that now defines us as a band." "Let's Talk" highlights Barbaro's exquisite compositional qualities, with the gentle melody's ebb and flow building patiently into a swirling crescendo filled with piano, electric guitar, and an assortment of percussion instruments. The song, Calvert points out, also exemplifies the various themes of duality – tension & release, masculine & feminine, tradition & innovation, and specific & abstract, that flow throughout About The Winter.

"Let's Talk" additionally finds Shelstad and Calvert each taking turns singing lead. Having Calvert handle lead vocals was a specific goal for About The Winter, as she only did harmonies on Dressed in Roses. Shelstad, the group's songwriter, state he wrote "One X One" with Calvert's voice in mind. That track, along with "Subtle Hints" and "All My Friends," showcases how her airy vocals pair so wonderfully with Shelstad's earthier singing.

Although Shelstad writes Barbaro's songs, the end result is a group effort. When he presents a song to his bandmates, Shelstad says, "I typically know immediately whether they like it or not." Each musician usually will work on their own parts – in practices and performances – until they all settle on an arrangement that they like. "The process is pretty organic," Wells states. In fact, several songs only fully solidified in the studio. "I think the beautiful thing about the experience recording this album was that we didn't really have a strong notion on how we wanted these songs to sound," Shelstad confides, "but while in the studio they seemed to come together quite naturally through freedom and comfort in being creative in the moment." Barbaro tracked all the songs live in the studio with their regular instruments, while some tweaking was done subsequently. "It is crucial," Wells notes, "to get the first initial basic track with all of us playing at the same time since we don't use a click track."

Barbaro recorded About the Winter during the winter of 2022 with Brian Joseph (Bon Iver, Sufjan Stevens, Y Music), at his studio, The Hive, a refurbished barn outside of Eau Claire, Wisconsin. Calvert had met Joseph first when she played with a friend's band that Joseph was producing. Joseph so impressed her that she immediately recommended him to Shelstad, who was 100% for Joseph after meeting him.

The entire band emphasizes the pivotal role played by Joseph, who co-produced (with Shelstad), engineered, and mixed About the Winter. "It was really important that we let Brian contribute to the album's sound just like any of us contribute," Calvert asserts. "His production elevated these tracks to an entirely different level." Joseph, states Shelstad, "helped define our sound on this album and the sound of the band for years to come." He also, Wells further elaborates, "showed us what was possible from a texture and engineering perspective, and also providing the perfect atmosphere for creativity." On "Subpoena Colada," for instance, the band was able to grab various instruments and toys that Joseph had around the studio to inject a little strange cacophony into that track.

Another major About the Winter contributor was banjoist Isaac Sammis, who co-founded Barbaro with Shelstad. Sammis decided to depart the band following the birth of his second child, and focus on his family; however, he does appear on every album track. Calvert credits Sammis' inventive banjo playing on the track "Gardens" with totally transforming the tune. About the Winter closes, quite appropriately, with the Sammis-penned instrumental, "Ike's Farewell."

Shelstad and Sammis first started Barbaro as a duo in 2017 with Calvert joining at the end of that year. There was some shuffling of musicians before Wells arrived in early 2019. Although coming from an almost exclusively classical music background, Wells was intrigued by what he heard in Barbaro, and his first gig with them sold him on joining. Calvert's background similarly was in classical music, although she had played on and off in the Minneapolis folk and bluegrass scene. She feels like the band's approach, through the song dynamics and their musical interactions, resembles playing in a classical quartet.

Barbaro released their first EP in 2018 and that year they also earned first place honors at the John Hartford Memorial Festival Band Contest and the Minnesota Bluegrass and Old Time Music Association's Americana-Roots Band Contest. The group were named Showcase Artists at 2020 Folk Alliance, the 2020 & 2021 IBMA World of Bluegrass, and the 2021 AmericanaFest. Bluegrass Situation and the Minneapolis Star-Tribune were among those who praised 2020's Dressed in Roses, with Bluegrass Today proclaiming that it "provides a bountiful bouquet and a remarkably rich one at that." In 2021, Barbaro put out a covers EP, featuring renditions of "Believe" (Cher), "Dark Turn of Mind" (Gillian Welch), "If It Makes You Happy" (Sheryl Crow) and "Jesus Etc." (Wilco), with proceeds benefiting a Minneapolis-area non-profit.

Barbaro was surprised and thrilled when they were selected to be one of ten American acts in the 2022-23 American Music Abroad (AMA) program sponsored by the U.S. Department of State. The band's spring 2023 AMA tour had them doing shows and workshops in Qatar, Turkey, and Bulgaria. The release of About the Winter represents Barbaro's next big adventure. The trio is excited about sharing their new record and they've been delighted with the overwhelmingly supportive and appreciative reactions to the evolution of their sound. "Now when we play," Shelstad reveals, "we can confidently relish in the raw connection between us, our audience, and our music."
Thu Nov 2 2023 8:00 PM - 11:00 PM
(Doors 7:00 PM)
Off Broadway
Saint Louis MO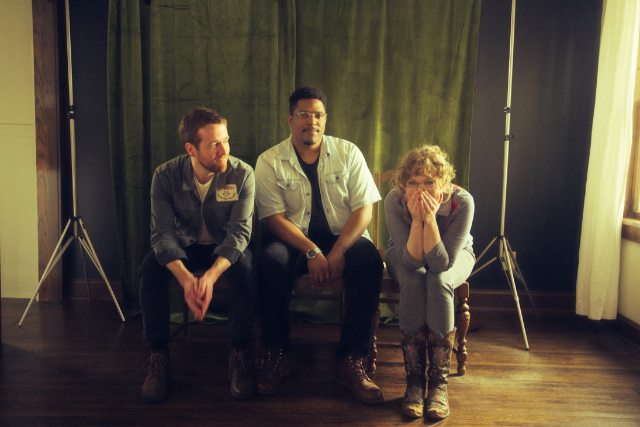 $15.00
All Ages
Barbaro

THU. November 2, 2023
Doors 7PM | Show 8PM
$15
BARBARO FORGES AN ADVENTUROUS MUSICAL PATH ON ABOUT THE WINTER, THEIR CAPTIVATING SOPHOMORE ALBUM DUE OCTOBER 20TH ON STORYSOUND RECORDS
The Minneapolis-based group delivers an enchanting acoustic-rooted sound that redefines string music traditions
Barbaro describes their second album, About the Winter, as their coming-of-age story – and rightly so. While their 2020 debut, Dressed In Roses, was warmly received, particularly in the bluegrass world, Barbaro knew that their follow-up needed to more authentically reflect the group's expansive sound. "We all wanted to push ourselves for this album," explains the band's co-founder Kyle Shelstad. The album reveals "the sacred transfiguration of our many personal and musical influences into something greater than the sum of its parts."
About the Winter (arriving October 20 via StorySound Records) provides a confident expression of Barbaro's musical evolution. Its ten tracks are built around the unique interplay between guitarist Shelstad's string band roots and the more classical music backgrounds of violinist Rachel Calvert and bassist Jason Wells, while also inventively integrating electric elements, like synths and electric guitar. The result is a pastoral Americana sound that feels both traditional and progressive.
Calvert, Wells, and Shelstad all identify the title track "Let's Talk About the Winter" as the song that established the album's tone because, in Wells' words, "it fully captured the soundscape that now defines us as a band." "Let's Talk" highlights Barbaro's exquisite compositional qualities, with the gentle melody's ebb and flow building patiently into a swirling crescendo filled with piano, electric guitar, and an assortment of percussion instruments. The song, Calvert points out, also exemplifies the various themes of duality – tension & release, masculine & feminine, tradition & innovation, and specific & abstract, that flow throughout About The Winter.
"Let's Talk" additionally finds Shelstad and Calvert each taking turns singing lead. Having Calvert handle lead vocals was a specific goal for About The Winter, as she only did harmonies on Dressed in Roses. Shelstad, the group's songwriter, state he wrote "One X One" with Calvert's voice in mind. That track, along with "Subtle Hints" and "All My Friends," showcases how her airy vocals pair so wonderfully with Shelstad's earthier singing.
Although Shelstad writes Barbaro's songs, the end result is a group effort. When he presents a song to his bandmates, Shelstad says, "I typically know immediately whether they like it or not." Each musician usually will work on their own parts – in practices and performances – until they all settle on an arrangement that they like. "The process is pretty organic," Wells states. In fact, several songs only fully solidified in the studio. "I think the beautiful thing about the experience recording this album was that we didn't really have a strong notion on how we wanted these songs to sound," Shelstad confides, "but while in the studio they seemed to come together quite naturally through freedom and comfort in being creative in the moment." Barbaro tracked all the songs live in the studio with their regular instruments, while some tweaking was done subsequently. "It is crucial," Wells notes, "to get the first initial basic track with all of us playing at the same time since we don't use a click track."
Barbaro recorded About the Winter during the winter of 2022 with Brian Joseph (Bon Iver, Sufjan Stevens, Y Music), at his studio, The Hive, a refurbished barn outside of Eau Claire, Wisconsin. Calvert had met Joseph first when she played with a friend's band that Joseph was producing. Joseph so impressed her that she immediately recommended him to Shelstad, who was 100% for Joseph after meeting him.
The entire band emphasizes the pivotal role played by Joseph, who co-produced (with Shelstad), engineered, and mixed About the Winter. "It was really important that we let Brian contribute to the album's sound just like any of us contribute," Calvert asserts. "His production elevated these tracks to an entirely different level." Joseph, states Shelstad, "helped define our sound on this album and the sound of the band for years to come." He also, Wells further elaborates, "showed us what was possible from a texture and engineering perspective, and also providing the perfect atmosphere for creativity." On "Subpoena Colada," for instance, the band was able to grab various instruments and toys that Joseph had around the studio to inject a little strange cacophony into that track.
Another major About the Winter contributor was banjoist Isaac Sammis, who co-founded Barbaro with Shelstad. Sammis decided to depart the band following the birth of his second child, and focus on his family; however, he does appear on every album track. Calvert credits Sammis' inventive banjo playing on the track "Gardens" with totally transforming the tune. About the Winter closes, quite appropriately, with the Sammis-penned instrumental, "Ike's Farewell."
Shelstad and Sammis first started Barbaro as a duo in 2017 with Calvert joining at the end of that year. There was some shuffling of musicians before Wells arrived in early 2019. Although coming from an almost exclusively classical music background, Wells was intrigued by what he heard in Barbaro, and his first gig with them sold him on joining. Calvert's background similarly was in classical music, although she had played on and off in the Minneapolis folk and bluegrass scene. She feels like the band's approach, through the song dynamics and their musical interactions, resembles playing in a classical quartet.
Barbaro released their first EP in 2018 and that year they also earned first place honors at the John Hartford Memorial Festival Band Contest and the Minnesota Bluegrass and Old Time Music Association's Americana-Roots Band Contest. The group were named Showcase Artists at 2020 Folk Alliance, the 2020 & 2021 IBMA World of Bluegrass, and the 2021 AmericanaFest. Bluegrass Situation and the Minneapolis Star-Tribune were among those who praised 2020's Dressed in Roses, with Bluegrass Today proclaiming that it "provides a bountiful bouquet and a remarkably rich one at that." In 2021, Barbaro put out a covers EP, featuring renditions of "Believe" (Cher), "Dark Turn of Mind" (Gillian Welch), "If It Makes You Happy" (Sheryl Crow) and "Jesus Etc." (Wilco), with proceeds benefiting a Minneapolis-area non-profit.
Barbaro was surprised and thrilled when they were selected to be one of ten American acts in the 2022-23 American Music Abroad (AMA) program sponsored by the U.S. Department of State. The band's spring 2023 AMA tour had them doing shows and workshops in Qatar, Turkey, and Bulgaria. The release of About the Winter represents Barbaro's next big adventure. The trio is excited about sharing their new record and they've been delighted with the overwhelmingly supportive and appreciative reactions to the evolution of their sound. "Now when we play," Shelstad reveals, "we can confidently relish in the raw connection between us, our audience, and our music."