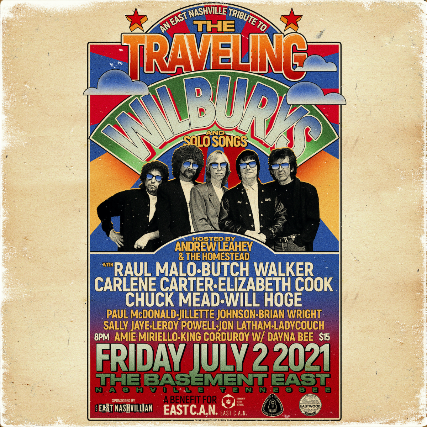 Fri Jul 2 2021
8:00 PM (Doors 7:00 PM)
917 Woodland St
Nashville, TN 37206
$15.00
Ages 21+
Proceeds benefit East CAN
An East Nashville Tribute to The Traveling Wilburys with more songs by Roy, Bob, Tom, George and Jeff Hosted by Andrew Leahey and the Homestead
Elizabeth Cook is a Nashville-based Singer Songwriter from Wildwood, Florida. As a critically acclaimed live act and recording artist, the New York Times lauds her "a sharp and surprising country singer". A veteran SiriusXM Outlaw Country Radio DJ, hosting her own show, Apron Strings, nationwide for the last 10 years, she is also a favorite of David Letterman, a regular performer on the Grand Ole Opry, and a frequent guest star on Adult Swim's long-running hit cartoon series "Squidbillies" on Cartoon Network.

In the words of the Drivin' and Cryin's legendary Kevn Kinney, "Elizabeth is so far ahead and under the radar you better have a supercharger for that fastback if you're going to catch up! Enjoy the ride…"

After leading several popular '80s cult bands in and around his hometown of Lawrence, Kansas, Chuck Mead landed on Nashville's Lower Broadway where he co-founded the famed '90s Alternative Country quintet BR549. The band's seven albums, three Grammy nominations and the Country Music Association Award for Best Overseas Touring Act would build an indelible bridge between authentic American Roots music and millions of fans worldwide. With BR on hiatus, Chuck formed The Hillbilly All-Stars featuring members of The Mavericks, co-produced popular tribute albums to Johnny Cash and Waylon Jennings, guest-lectured at Vanderbilt University, and became a staff writer at one of Nashville's top song publishers. In 2009, he released his acclaimed solo debut album, Journeyman's Wager, and toured clubs, concert halls and international Rock, Country and Rockabilly festivals with his band The Grassy Knoll Boys.

As Music Director for the Broadway smash Million Dollar Quartet, Chuck began crafting the music arrangements during the show's original Daytona and Seattle workshop productions, supervised the musical performances for its 2008 Chicago opening, created new music material for the show's Tony Award-winning Broadway run, produced the original cast album, and oversaw the music for its smash 2011 premiere at London's Noël Coward Theatre. In 2013, MDQ broke the Chicago record for longest running musical.

Chuck's acclaimed 2012 release, Back At The Quonset Hut, was recorded at Nashville's legendary Quonset Hut Studio where Patsy Cline, George Jones, Merle Haggard Roger Miller, Loretta Lynn, Johnny Cash and more cut some of country's greatest tracks. Produced by original BR549 producer Mike Janas and with the participation of students from Belmont University's College of Entertainment and Music Business, the album of classic covers features surviving members of Music Row's original 'A Team' studio musicians as well as guest appearances by Old Crow Medicine Show, Elizabeth Cook, Jamie Johnson and Bobby Bare.

2014 ushers in Free State Serenade, the new Chuck Mead & His Grassy Knoll Boys release on Nashville-based Plowboy Records. Produced by long-time ally and friend Joe Pisapia (kd Lang, Ben Folds Five) and featuring BR549's Don Herron, Old Crow Medicine Show's Critter Fuqua, Alan Murphy, Will Rambeaux, and Mark Andrew Miller, Free State Serenade is Chuck Mead's strongest effort yet.

"It's been incredibly liberating to do all these things I've never done before. I've already gone from the bars of Lower Broadway in Nashville to the Broadway stage, and the upcoming album is one of the most unique and rewarding projects I've ever been a part of. I'm looking forward to where it all brings me next." - Chuck Mead

"I'M TURNING ALL THESE LOWS INTO GLITTER, SILVER, AND GOLD/AND IT'S SO MUCH BETTER…"

Paul McDonald sings those words with soaring emotionality on "So Much Better," a track from his upcoming debut, Modern Hearts. And those are the words of a man who has truly lived his lyrics.

Three years ago, after a highly publicized divorce and the break-up of his former band, Paul left his life in LA in search of familiarity and solace. The Alabama-born artist found himself in East Nashville, feeling like a stranger in a region he once called home. That all changed when he picked up his guitar and began the process of what would become Modern Hearts.

"I had to take my life back and figure out who I was again," he shares. "It took me a few years and a few hundred songs to get to that point."

Paul story's is the triumphant Modern Hearts, an album bursting with anthemic hooks, majestically textured alt-rock, tinges of Southern soul, literate introspection, and profound redemption. Previously, Paul's broadly resonant musicality garnered him international acclaim and coverage from the likes of Rolling Stone, Billboard, MTV, etc., and enabled him to share the stage with a diverse array of classic and current icons. Select performance highlights include sharing the stage with artists such as Stevie Wonder, Zac Brown, Father John Misty, Emmylou Harris, and appearing at festivals such as Bonnaroo, SXSW, and Hangout Festival and performing on nationally televised shows like "Good Morning America" and "The Tonight Show."

It could be said that Modern Hearts is a breakup record documenting spiritual and artistic uplift. The 14-track body of work represents a full-spectrum of emotions, from soulful and sorrowful tracks, to invigorating new-life anthems, to meditative mid-tempo numbers.

"Writing helped me a lot during that time. I would wake up every morning in a dark headspace, but once I picked up the guitar and started writing, I'd tell myself, 'I'm back.'" Paul says with a good-natured laugh. He continues: "And as I gained my confidence back as a human being and as an artist, I started writing more upbeat and hopeful songs."

"Once You Were Mine" oozes Memphis soul. Replete with stately horns, silken vocals, confessional lyrics, and a simmering groove, it recalls prime Al Green. The boldly vulnerable title track unpacks the painful complexity of breakups in the digital age. The invigorating "Hold On" hits that post-breakup sweet spot where anger overtakes heartache. Modern Hearts also boasts a cadre of got-my-mojo-back tracks, one standout is the ambient and slow burner "Call On Me" which lunges forth with an ominous, dub-funk groove, and a vocal delivery that oozes virility. The track's chorus kicks off with a time-standing-still moment before it rockets skyward with an irresistible soul pop hook.

Modern Hearts was produced by Jordan Lehning (Caitlin Rose, Rodney Crowell, Andrew Combs), and features an all star cast of studio musicians whose resumes include Cage The Elephant, James Bay, Shawn Mendes, Maren Morris, Nikki Lane, Kacey Musgraves, and Buddy Miller, among others. The album was tracked with ace musicians playing in real time with sympathetic band interplay at the vibey Echo Mountain Studios in Asheville, NC (Band Of Horses, Avett Brothers). Additional recording took place at Sound Emporium Studios (Jason Isbell, Alabama Shakes) in Nashville, TN.

Today, Paul is no longer a stranger in Nashville, nor is he a stranger to himself. Upon completing the album, he debuted his new material live for the first time in town, and, despite not having a record commercially available at the time, he sold out the club in his adopted hometown of Music City. Looking back on the powerful journey represented by Modern Hearts, Paul says: "Making this record saved my life. I regained my confidence and my sense of self through the process. But what has made the journey worthwhile is having other people reach out to tell me that listening to these songs has helped them through a similar situation. For an artist, there's no better feeling than sharing emotions and helping people find strength and clarity through your music. That's the real prize."

Modern Hearts is set for a late summer/early fall of 2017 release.

"Took a whole lot of miles to know what I know now," sings Will Hoge on "Growing Up Around Here," the opening track off of his tenth studio album, Small Town Dreams. "I'm kinda proud of growing up around here." It's been a whole lot of miles, indeed: miles on the road, driving the bus himself from venue to venue since the nineties; miles to and from Nashville writing rooms, where he's spent countless hours penning songs – some for him, some for others; miles exploring lands outside of his native Franklin, Tennessee, chasing the spirits of his musical heroes. Roads meet, roads split, roads led to home. This is the album that follows them all, every twist and turn in Hoge's American journey – a journey that's positioned him as one of our keenest, most honest modern storytellers, telling both his tale and ours.

"It's a reflection of where I am currently in my life," says Hoge of Small Town Dreams, "but also where I grew up, and, ultimately, where I think I'm going." From the streets of the town where he was raised, to the sidewalks of cities a hundred times the size, we all have dreams; and these are the stories of growing up, looking back and passing on those dreams, told as only Hoge can. Nostalgia, in his hands, is truly magic.

An extremely prolific songwriter with ten albums under his belt and countless songs written for others (including a Grammy nomination for Eli Young Band's number-one hit, "Even If Breaks Your Heart," co-written with Paslay), Hoge saw this next phase of his journey as an opportunity to explore even deeper into both his country and rock & roll roots. Never fitting particularly neatly into a genre box, he's always just made the music that moved him – but it's safe to say that he feels more kinship with the country community than ever, particularly as a storyteller.

Sugar Hill Records is proud to continue its legacy of incredible songwriters with the release of Brian Wright's House on Fire – due out March 29th. While this is the first label release from the Waco, TX native, he has built a firm base of fans within and beyond the music industry with two previous releases and tireless touring in the US and Europe. Unlike previous releases, which were both recorded in the studio with a band, House on Fire approaches the recording process in a much more relaxed and reflective manner, with Wright playing every instrument himself and handpicking his prolifically written songs into a mindful, well-curated collection.

And make no mistake, this album truly is about the songs. Gems like "Mean ol' Wind" and "Live Again" convey the tenderness of the soul which very few songwriters can capture. "Striking Matches" and "The Good Dr." bring the driving sound of a cross-country bound train, bound for heartache or redemption. "Maria Sugarcane" paints with a Southern Gothic brush that would make Flannery O'Connor proud.

"When people ask what I sound like, I usually say I'm somewhere between Woody Guthrie and Velvet Underground," says Wright. "This album finally allowed me to make the music the exact way it was in my head."

After spending his early twenties on the Austin/Waco/Dallas bar circuit, playing everything from punk to covers, Wright flipped a coin to decide his future home, either New York City or Los Angeles. Going West won the day. Today, when not touring, he resides in Los Angeles where he is a fixture in the LA music scene. For the last six years he has been the front man and lyricist for his band Brian Wright and the Waco Tragedies, a band that has gathered a devoted audience across the country.

Wright has plans to launch the record with a full showcase schedule at SXSW in Austin plus a string of nation-wide tour dates.
An East Nashville Tribute to The Traveling Wilburys with more songs by Roy, Bob, Tom, George and Jeff Hosted by Andrew Leahey and the Homestead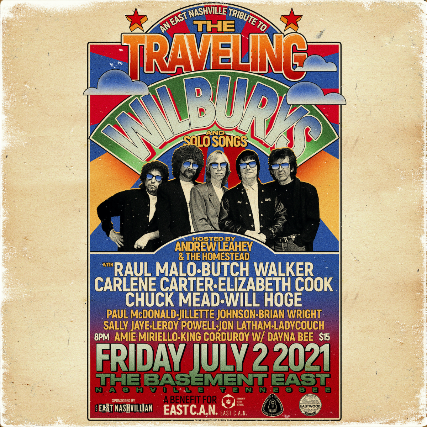 $15.00
Ages 21+
Proceeds benefit East CAN