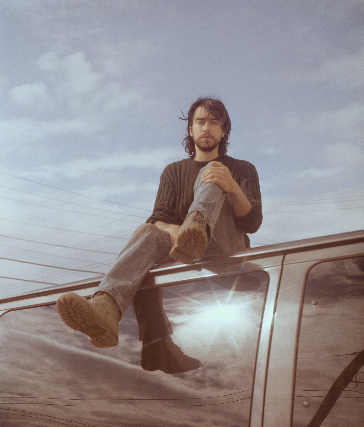 Sat Aug 7 2021
8:00 PM (Doors 7:00 PM)
53688 Pioneertown Road
Pioneertown, CA 92268
All Ages
THIS IS AN OUTDOOR SHOW.

Public On Sale: May 7 10am
Alex G: House of Sugar

There's hardly a second when Alex Giannascoli's voice can't be heard in "Walk Away," the opener of his latest album, House of Sugar. The distended, pitched-up wail that introduces the track gives way to cascading layers of his more familiar intonations. "Someday I'm gonna walk away from you," he sings; "not today." These are the song's only words, repeated again and again for more than four minutes. In the repetition, emphasis shifts from "someday" to "not today" and back, leaving the listener in a space of uncertainty. It's in this space that Giannascoli—the 26-year-old artist better known as Alex G—lingers throughout the album's thirteen songs: between backwards and forwards, past and future, one voice and another. On House of Sugar, his third full-length for Domino and ninth overall, Alex inhabits a diverse range of musical and emotional points-of-view (often simultaneously), in turn illuminating the tension that hides in the shadow of desire.

Giannascoli began writing these songs in the fall of 2017, having just finished a tour for House of Sugar's acclaimed predecessor, Rocket, and moved into a new apartment in Philadelphia. Whereas with earlier efforts, such as 2011's self-released Winner or the landmark 2014 release DSU, he'd write numerous songs fairly quickly, with House of Sugar Giannascoli worked at a steadier pace, concentrating on fewer songs and laboring over each one more than before.

After building the tracks at home, recording most of the guitars, keyboards, and vocals himself, Giannascoli enlisted some recurring bandmates and collaborators to help realize further aspects of the album: Samuel Acchione's wailing electric guitar on "Walk Away," John Heywood's bass underneath "Taking," Tom Kelly's drums giving "Hope" its bounce, Molly Germer underscoring "Southern Sky" on violin. Throughout the process Giannascoli worked closely with Jacob Portrait, who mixed both Rocket and its predecessor, 2015's Beach Music, and here helped to balance each of House of Sugar's dense, multi-faceted tracks. As the product of extended focus and planning, House of Sugar emerges as Giannascoli's most meticulous, cohesive album yet: a statement of artistic purpose, showing off his ear for both persistent earworms and shifting textures.

Which is to say, "cohesive" doesn't imply that House of Sugar dispenses with the out-there sonic adventurism that's made previous Alex G records so singular. Giannascoli recorded with a clone of the Neumann U87 microphone, built by Tom Kelly—the first time he'd ever used a microphone other than the Samson Q1U USB mic that he got as a teenager. The new mic, coupled with an updated version of Garageband that came with a replacement laptop, provided Giannascoli a new toolkit for home-recording, prompting him to analyze the types of sounds he'd been making and that he wanted to make. In addition to bolstering the rich, polished mix of its rock-oriented songs, the new equipment allowed for a broad range of unique technical experiments that provide each track emotional and tonal complexity. This includes not only the otherworldly vocals that haunt songs such as "Walk Away," "Taking," and "Bad Man," but also the more subtle hums and echoes that texture "Hope" and "Gretel," and the distorted soundscapes into which listeners of "Sugar" and "Near" are immersed.

Throughout, the multiplicity of Giannascoli's voice evokes the hybrid existence of a science-fiction creature, at once human and something else. Indeed, in many ways, hybridity defines House of Sugar. The lines between characters and narrators are perpetually blurry, allowing room for artist and listener alike to move through the songs, to access their shifting headspaces. On "Southern Sky", we hear a voice other than Giannascoli's own: frequent collaborator Emily Yacina, who sang on Rocket's "Bobby," among other Alex G songs. The pair's voices intertwine as they follow the track's meandering pathway. Its steady country-rock bounce belies the extent to which "Southern Sky" changes as it flows along—how it starts with a discordant piano run and ends with the lilting strum of a single acoustic guitar, a disturbed (and unintentional) echo of Neil Young's "Harvest Moon." The distinction between beginning and end, at first concealed by a tight composition, is emblematic of the way House of Sugar works as a whole: throughout the album Giannascoli makes you think that something is one way before revealing, often almost imperceptibly—maybe not until it's too late—that it's probably another.

The stakes are often high in this regard. The dramatic action pose depicted on the album's cover (as always, painted by Giannascoli's sister, Rachel) points to the feelings of precarity evoked within. Just as the figure skater looks poised to either succeed or fall, House of Sugar's characters are constantly teetering on the edge of extremes, approaching either bliss or violence—unless it's both at the same time. They're manipulated ("Gretel") and manipulative ("Crime"); up in the sky ("Sugar") and buried in the dirt ("Bad Man"). Caught in the ambiguous spaces of the songs, House of Sugar's characters are disposed toward the bad—"Music makes me wanna do bad things," sings Giannascoli on "In My Arms"—but seemingly reaching for the good. Or, are they? Could bad be good, sweet be sour? While each track hints at concrete situations derived from either Giannascoli's life or a covert array of literary and filmic sources, none excludes a host of oppositional possibilities that listeners can generate and regenerate themselves.

The album's final track, "SugarHouse," opens with applause: it was recorded at a 2018 concert in St. Louis, with a saxophone overdubbed later, the first time Giannascoli has implemented a live recording on a studio album. (In 2018, though, he released a Live at Third Man Records LP.) A brooding, flowing anthem, "SugarHouse" shares its name with a casino not far from Giannascoli's home in Philadelphia; as the song unfolds, the casino emerges as a suggestive site for the album as a whole. Its first verse echoes the various moments when a House of Sugar protagonist realizes that highs are always temporary, that what seems sweet often isn't. "SugarHouse is calling my bluff," Giannascoli sings. But, in the second verse, his character—unknown and broken—nevertheless professes faith in where he is and who he's with. Nothing is definitive, but after thirteen songs of being split apart and spread around, through these relationships, in the House of Sugar, he might finally be "put together again."

On her first proper album as Jay Som, Melina Duterte, 22, solidifies her rep as a self-made force of sonic splendor and emotional might. If last year's aptly named Turn Into compilation showcased a fuzz-loving artist in flux—chronicling her mission to master bedroom recording—then the rising Oakland star's latest, Everybody Works, is the LP equivalent of mission accomplished.

Duterte is as DIY as ever—writing, recording, playing, and producing every sound beyond a few backing vocals—but she takes us places we never could have imagined, wedding lo-fi rock to hi-fi home orchestration, and weaving evocative autobiographical poetry into energetic punk, electrified folk, and dreamy alt-funk.

And while Duterte's early stuff found her bucking against life's lows, Everybody Works is about turning that angst into fuel for forging ahead. "Last time I was angry at the world," she says. "This is a note to myself: everybody's trying their best on their own set of problems and goals. We're all working for something."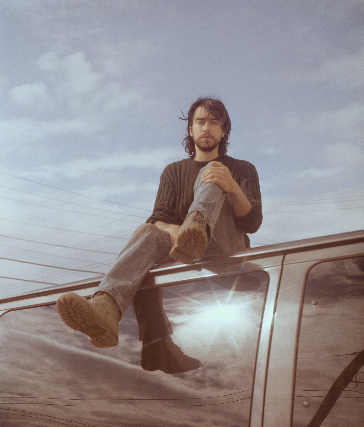 All Ages
THIS IS AN OUTDOOR SHOW.

Public On Sale: May 7 10am