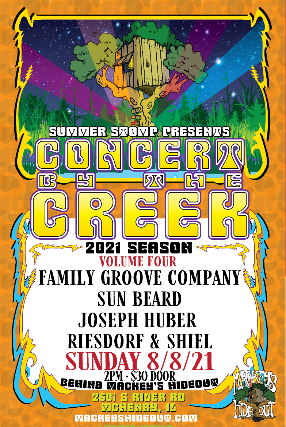 Sun Aug 8 2021
2:00 PM - 8:00 PM (Doors 1:00 PM)
2601 S River Rd
McHenry, IL 60051
$30.00
Ages 21+
Outdoor Event,
21+
NO PETS
2021 CONCERT BY THE CREEK VOL 4
Family Groove Company integrates the groove sensibility developed by funk/jazz crossover artists like Herbie Hancock and Medeski, Martin, and Wood, with thoughtful, tight songwriting that takes cues from the likes of Steely Dan and the Beatles. The result? An infectious, fresh sound the band calls "groove informed jazz/rock." With a sound defined by rich analog keyboards, tight crunchy guitar, and a pocket-based rhythm section, FGC brings a fresh sound that bends genres and dares the listener not to dance.

Joseph Huber hails from the state of Wisconsin, and seems to bring forth the varied voices of whatever it may be that lies dormant within either the fertile soil or the callous concrete of that world. It has been said, "You don't just like Joseph Huber's music. You feel it's something that the rest of the world needs to hear, and how criminal it is that it isn't spreading far and wide." That sentiment could be related to the fact that the voices which Huber unearths are subtle and take more than a hurried listen to truly absorb. A person who appears reserved and matter-of-fact in everyday speech brings forth songs that are anything but that.
As the singer, songwriter, performer, recorder and producer of all of his own material, Huber has his hands full, but never seems to miss a beat. And his own 'solo' material has now certainly surpassed the output of his past efforts, both in volume and substance. As one of the founding member of the .357 String Band--a group that would probably fit better in today's 'Americana-saturated' environment than in the early to middle aughts--he's gradually honed a sound that seems to fill a very real gap within the still-emerging genre. Having progressed, Huber continues moving onward and upward captivating folks with his sincere and well-crafted songs under his own name along with the impeccable musicianship of his fellow touring partners. Whether it's irresistible, fiddle-driven, dancing tunes or honest, heart-wrenching "songwriter" songs, Huber's songs and shows spans the spectrum of 'Roots' music while preferring not to stay within the boundaries of any strict genre classification.
His lyricism and introspective writing style has received high acclaim from music enthusiasts looking for a more substantive substitute to much of today's music. Maintaining a solid touring schedule, playing all throughout both the U.S. and all around Europe, Huber continues to gain positive press, including being listed on L.A. Weekly's '10 More Country Artists To Listen To.' Blue Ridge Outdoor writes, "Songwriters like Townes Van Zandt, Chris Smither, and John Prine can marvel listeners in the simplest of acoustic settings,...From time to time, I stumble upon a new singer/songwriter whose work warrants comparison to the luminaries on this list. ...Huber's songwriting has me comparing him to my favorites above." He's had the pleasure of sharing the stage with many artists including Tyler Childers; Hackensaw Boys; Scott H Biram; The Tillers; Possessed By Paul James; Dave Simonett; Robert Earl Keen; Ben Nichols; The Tossers; Charlie Parr; Amy Lavere; Horseshoes & Hand Grenades; Reverend Peyton's Big Damn Band; Henhouse Prowlers; Keller Williams, and more...
As of now, Huber has delivered five solo records: 'Bury Me Where I Fall' (2010); 'Tongues Of Fire' (2012), 'The Hanging Road' (2014); and 'The Suffering Stage' (2017). Now, 2019 gives us 'Moondog'--a record of variety and transition that seems to scream, "What else!" The only constant throughout is the lyrical precision, while musically it moseys and roves wherever it will with the promise that Huber always has more on his mind and more up his sleeve.

Sun Beard began in 2014 as a recording project fronted by Chicago-based songwriter/guitarist, Matt Robinson. Sparked by fireside jams with friends that blazed forth into the studio setting, the first incarnation of Sun Beard was a collaboration with more than dozen musicians contributing to the 2015 release of the debut album, The Night.

After performing a handful of shows with rotating lineups in support of the record, Sun Beard serendipitously solidified its lineup in the fall of 2018 with a breakout performance at Shoe Fest. Keeping in the project's original spirit of drawing from diverse talent on Chicago's music scene, the lineup featured Janis Wallin on bass (Family Groove Company), Scott Tipping on guitar (Backyard Tire Fire, Cornmeal), and Jonathan Reed on drums (Old Shoe), along with original founder Matt Robinson.

The electricity of the Shoe Fest performance unexpectedly propelled this new incarnation of Sun Beard into more shows and festivals across the Midwest, and eventually back into the studio. The chemistry of the newly solidified 4-piece ran instantly deep, as the band began to explore the grit and heart of rock and roll in both the live and studio setting. With a fresh take on classic sounds, Sun Beard runs the spectrum of high-energy rock to heartfelt singalongs that hark back to its fireside roots, all while showcasing the unique talent of its contributing members. The band continues its artistic pursuit in 2020 with multiple studio releases and a return to the live stage later this year.
2021 CONCERT BY THE CREEK VOL 4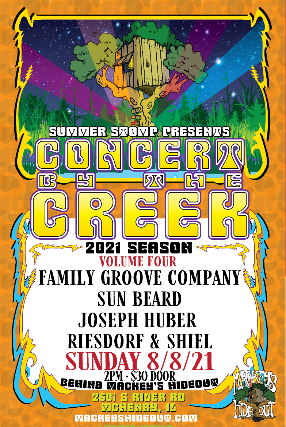 $30.00
Ages 21+
Outdoor Event,
21+
NO PETS