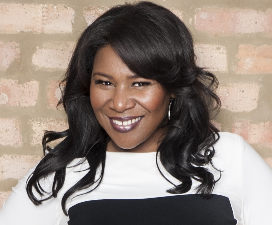 Catalina Bar & Grill
Tammy McCANN Quartet
Tuesday, Aug 29, 2017 8:30 PM PDT
Catalina Bar & Grill, Hollywood, CA

Additional Information
Tammy McCann is an internationally recognized Jazz Vocalist. Her powerful, sultry, and emotionally charged voice paints pictures and tells stories by merging Classical vocal technique and Gospel aesthetic with Jazz to create a sound that is completely her own. Chicago Tribune's Arts Critic, Howard Reich says McCann has, "A voice that soars in all registers, at all tempos, on all occasions... a voice that inspires wonder!"
Tammy is a story teller who draws emotion from and makes connections with here audiences world- wide. Her warm delivery allows her audience to go on the musical journey with her and her engaging personality imprints the memory of her performance on their hearts. Inside Jazz Magazine Music Critic, Nora McCarthy says "She came bearing natural gifts and with raw talent in hand, she stepped up to the mic and into the hearts of everyone in the room."
The Chicago Tribune says "McCann is the next great voice out of Chicago!" Tammy McCann has performed with Chicago's own Ramsey Lewis & Von Freeman and toured as a 'Raelette' with the great Ray Charles. McCann has thrilled audiences in festivals and clubs world- wide as well as the nation's premier Jazz venues such as Birdland, The Blue Note, Jazz at Lincoln Center's Dizzy's Club Coca Cola and Chicago's own Jazz Showcase her shows are not to be missed.
Join Tammy McCann for a swinging evening with her All-Star Trio featuring Tamir Hendelman piano, John Clayton, bass and Jeff Hamilton,drums.


Processing your request, please wait....