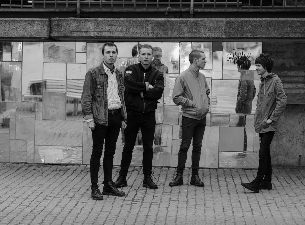 Empty Bottle, Inc.
Holograms
Thursday, Aug 10, 2017 9:00 PM CDT
Empty Bottle, Chicago, IL
21 years and over
Additional Information
The coldest night I ever had on tour was in Glasgow. We crashed in a punk squat, run by Scottish kids who spoke in a very fast, occasionally understandable staccato brogue. It was right in the fucking middle of winter. I laid under my hoodie on a bare mattress, split with Filip, and tried to sleep. It was not possible.
A promised hot shower did not materialize in the morning—something about a dodgy water heater. We went out to the car instead, an old minivan that would have many, many problems, and danced around in the lot until it warmed up.
—
In fact, by the time we finally got back to Stockholm, the car was such a mess it went straight to the scrapyard. I remember very well when it first broke down: it was in the Spanish desert, between Madrid and Bordeaux. We fixed it there on the side of the road—enough to get to France—with bubble gum and electrical tape.
And on and on. Shows everywhere: a squat in Amsterdam, boats in Lyon and Lille, underground tunnels in Italy, a bunker in Nantes, museums in North Carolina and in Paris. A thundering show at 285 Kent in Brooklyn. A homecoming at Strand in Stockholm. A strange Halloween in Milan.
Now here we are. I ask for a bio; they're sending me poems about Lucifer.
The band has no comment. But, I am encouraged to say: let us sleep in your house, and put a fire on.
— Hoppie Newton, 2017


Processing your request, please wait....