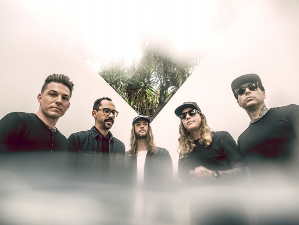 Purchase Tickets
Please call 707.880.2300 (3:30-9:30 pm) to reach venue Box Office to check availability as tickets may be available. Club Restaurant opens at 5 pm. Doors at 5 for 7 pm set, Doors at 9 for 9:30 set.
Additional Information
They Went Ghost, Local Artists 8pm.
HIRIE 9 pm
Dirty Heads 1015 pm
After two decades spent chiseling their unique, multi-genre infused sound, Dirty Heads have finally come into their own. Since the release of their 2008 debut 'Any Port in a Storm,' the five-piece band -- Jared Watson (vocals), Dustin "Duddy B" Bushnell (vocals/guitar), Jon Olazabal (percussion), Matt Ochoa (drums) and David Foral (bass) -- has consistently experimented with their sunny style, leaning heavily on reggae fused with hip-hop cornerstones and scaling back for more acoustic fare, darting between extremes. But it's with their fifth and self-titled album that the group has felt fully confident in a body of work, ready to bring their unique style to the masses.
"It's the most core Dirty Heads album we've done," explains Watson, who formed the collective with Bushnell in 1996. "One of the most important things about this album is the reason we self-titled it. This album has all of the elements that we've tried to play around with. We had to go through those other albums to really find out exactly who we are, where it was natural. Now, I just think our sound is better and more confident."
Any additional information needed find it here.
http://www.bottlerocknapavalley.com/lineup-schedule/2017-artists/
JaM Cellars Ballroom / Margrit Mondavi Theatre: UPSTAIRS
General Admission and standing with limited seating upstairs in the balcony
Each person does require a ticket for entry. We welcome ages 8+ with children under 16 accompanied by an adult. No Babes in Arms.
No Refunds. No professional cameras or outside food and drink.
There is no dining available in the Ballroom, but there is a Bar available for drink purchases. Patrons attending a show upstairs in the Ballroom are welcome to dine in the restaurant starting at 5 pm if available.
Due to the historic nature of the Ballroom, there are no bathrooms located upstairs. Facilities are located downstairs around the Blue Note Club and are accessible via stairs or the elevator.
Any special needs or accommodation requests, please call our Box Office. 707.880.2300 Tues-Sat. 3:30-9:30
Thank you and we look forward to seeing you!
The JaM Cellars Ballroom in the Margrit Mondavi Theatre is located UPSTAIRS in the historic Napa Valley Opera House
1030 Main Street, Napa CA 94559
Box Office: 707.880.2300 (Tues-Sun, 3:30-9:30 pm)

Processing your request, please wait....