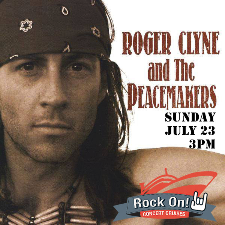 Additional Information
SPECIAL LIMITED NUMBER OF EARLY BIRD TICKETS ONLY $30
Hailed as one of the most exciting live acts on the road today, Roger Clyne & The Peacemakers are musical beacons of the Southwest fueled by witty and insightful lyrics, crunching guitar riffs, a dynamic rhythm section and tequila. RCPM are the only act to release seven consecutive studio albums to land on the top 10 of Billboard's Internet Sales Chart, two at No. 1, all released on a 100% independent record label.
Dubbed the "Springsteen of the Southwest" by the Asbury Park Press, Roger Clyne and his guitar have toured around the world over his 20-year career, starting with The Refreshments. The seminal Tempe, Arizona band made big waves in the '90s both on college and alternative rock radio as well as MTV with the songs "Banditos" (with the infamous chorus, "Everybody knows that the world is full of stupid people") and "Down Together" as well as writing the theme for TV's "King of the Hill."
Click HERE for everything you ever wanted to know about your Rock On! Concert Cruise!
THIS CRUISE BOARDS AT 3:15 AND DEPARTS AT 4PM SHARP AND RETURNS AT 7PM
DON'T BE LATE!! You do NOT Want to be that Guy or Gal that watches the Party Float Away from the Dock!
YOUR ID WILL BE REQUIRED TO BOARD THE BOAT!
All Cruises Are Rain Or Shine!
Advance tix sales stop at 6pm day of show, after 6pm tix available at the door Cash Only.- This cruis is on Mass Bay Lines and departs from Rowes Wharf at The Boston Harbor Hotel Atlantic Avenue - There is $10 Parking @ INTERNATIONAL PLACE GARAGE across from the Hotel after 6pm
By T, Red Line to South Station - it's 1/4 mile up Atlantic Ave or Blue Line to Aquarium - it's 1/4 mile down Atlantic Ave. There is an ATM on the boat, light snacks and hot dogs also available on the boat. Pick Up WillCall Tix at Mass Bay Lines Box Office Gate C behind the Boston Harbor Hotel.
You will be subject to a SECURITY CHECK / LIGHT PAT DOWN outside drinks, flasks and contraband are not allowed. Drugs are Bad mmm'kay? Stick em where the sun don't shine or expect them to be confiscated.
Questions? email Dan Millen rockondan@gmail.com - DON'T FORGET YOUR ID! And Rock On!


Processing your request, please wait....