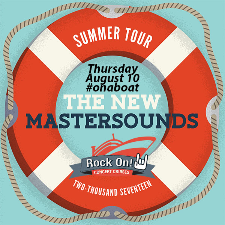 Additional Information
SPECIAL EARLY BIRD PRICE ONLY $25 - Limited Amount Availabe!

In the late 1990's, guitarist and producer Eddie Roberts was running a club night in Leeds called "The Cooker." When The Cooker moved into a new venue with a second floor in 1999, there was space and the opportunity to put a live band together to complement the DJ sets. Simon Allen and Eddie had played together in 1997 as The Mastersounds, though with a different bassist and no organ. Through friends and the intimate nature of the Leeds music scene, Pete Shand and Bob Birch were added on bass and Hammond respectively, and The New Mastersounds were born. Though it was raw, and more of a boogaloo sound at first, it was powerful from the start. Their first rehearsal was hot enough for Blow it Hard Records to release on two limited-edition 7" singles in 2000.

====================

Click HERE for everything you ever wanted to know about your Rock On! Concert Cruise!
THIS CRUISE BOARDS AT 7:15 AND DEPARTS AT 8PM SHARP AND RETURNS AT 11PM
DON'T BE LATE!! You do NOT Want to be that Guy or Gal that watches the Party Float Away from the Dock!
YOUR ID WILL BE REQUIRED TO BOARD THE BOAT!
All Cruises Are Rain Or Shine!
Advance tix sales stop at 6pm day of show, after 6pm tix available at the door Cash Only.- This cruis is on Mass Bay Lines and departs from Rowes Wharf at The Boston Harbor Hotel Atlantic Avenue - There is $10 Parking @ INTERNATIONAL PLACE GARAGE across from the Hotel after 6pm
By T, Red Line to South Station - it's 1/4 mile up Atlantic Ave or Blue Line to Aquarium - it's 1/4 mile down Atlantic Ave. There is an ATM on the boat, light snacks and hot dogs also available on the boat. Pick Up WillCall Tix at Mass Bay Lines Box Office Gate C behind the Boston Harbor Hotel.
You will be subject to a SECURITY CHECK / LIGHT PAT DOWN outside drinks, flasks and contraband are not allowed. Drugs are Bad mmm'kay? Stick em where the sun don't shine or expect them to be confiscated.
Questions? email Dan Millen rockondan@gmail.com - DON'T FORGET YOUR ID! And Rock On!


Processing your request, please wait....