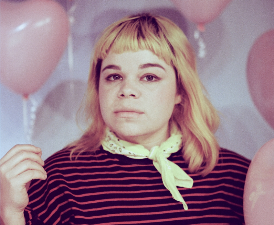 Samantha Crain
Jarrod Dickenson
Friday, May 12, 2017 8:00 PM EDT (7:00 PM Doors)
9th Ward at Babeville, Buffalo, NY

Additional Information
"Samantha Crain writes folk music, but she belts out notes like she's singing R&B. Her rich alto…is enough to raise gooseflesh…"
– Rolling Stone
"a promising young storyteller with fealty to ragged, country-driven indie-pop and an alluring dark streak."
– New York Times
New York, NY – Don't underestimate Samantha Crain. In the video for her new song "Oh Dear Louis" off her forthcoming album 'You Had Me At Goodbye' (3/24, Ramseur Records), the singer goes on a three-man murder spree set to the backdrop of kaleidoscopic visuals and an irresistibly hook-driven pop anthem. Lenny called the new music "gripping….a self-portrait comprising dark humor, vulnerability, and earnest humanity."
'You Had Me At Goodbye', out 3/24 via Ramseur Records, is the latest offering from Oklahoma native Samantha Crain, whose eccentric warble takes center stage on this collection of pop-minded, art punk-influenced tracks. It was produced by John Vanderslice (Spoon, The Mountain Goats, Strand of Oaks) and recorded completely analog on a Neve 8068 console at Tiny Telephone Recording in Oakland, CA.
'You Had Me At Goodbye' is chock full of darkly humorous, witty lyrics and off-kilter vocals that expertly quench a thirst for unabashed quirkiness. Samantha is a member of the Choctaw Nation, and the album includes and a stirring update of a traditional Choctaw song that eerily prefigures that Standing Rock controversy. The lyrics to "Red Sky, Blue Mountain" chillingly translate to, "A red sky, a blue mountain. The dream that is real, born to change the world. And we did, but what have we done."
Samantha has toured with artists like First Aid Kit, Thao and the Get Down Stay Down, and Brandi Carlile, and her music has earned praise from places like Rolling Stone, and Spin, who said Samantha "deftly conveys the small-wonder pleasures and pains of everyday existence."
Singer Songwriter, Jarrod Dickenson opens the show. Storytelling is something of a Texas tradition. Tall hats and even taller tales are woven into the fabric of The Lone Star State, and singer-songwriter, Jarrod Dickenson can spin a yarn with the best of them.
Hailing from Waco, now based in Brooklyn, Dickenson spends most of his time on the road bringing his own particular brand of soulful Americana to a wide variety of music loving audiences around the globe.
Jarrod's critically acclaimed album 'The Lonesome Traveler' and his subsequent EP 'Songs From Willow St' paved the way for him to tour the UK, Ireland and Europe extensively over the last several years. Breakout performances at Glastonbury and Larmer Tree Festival, along with recent tours supporting legendary artists such as Bonnie Raitt, Don McLean and The Waterboys have earned Jarrod a formidable and loyal fan base across the globe, including BBC radio hosts Dermot O'Leary, Cerys Matthews, Huey Morgan, Janice Long, Robert Elms and Alex Lester.


Processing your request, please wait....