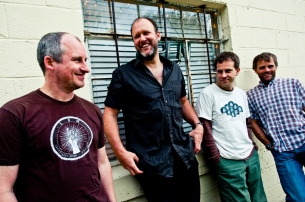 Bottom Lounge
Archers of Loaf
Friday, Aug 24, 2012 9:30 PM CDT (8:30 PM Doors)
Bottom Lounge, Chicago, IL
17 years and over
Purchase Tickets
We're sorry, there are no tickets currently available through TicketWeb.
Additional Information
PRESALE: TUE JUNE 12 at 12PM
PUBLIC ONSALE: FRI JUNE 15 at 12PM
The Archers of Loaf were darlings of the indie world in the early to mid-'90s, thanks to an off-kilter sound that was edgy and challenging, yet melodically accessible at the same time. Cornerstones of the Chapel Hill, NC, indie scene that also spawned Superchunk and Polvo, the Archers' chief inspirations were the Replacements and Sonic Youth, but that only began to tell the story. Their music was frequently likened to a more intense, raucous version of Pavement's postmodern pop, and indeed they shared key elements: fractured song constructions, abstractly witty lyrics, clangorous guitars, and lo-fi production. More rooted in punk and noise rock, however, the Archers took the dissonance, white noise, and angularity to greater extremes, and played with more overt commitment and enthusiasm in concert. The Archers became a hip name to drop with their acclaimed 1993 debut, Icky Mettle; several more accomplished albums followed before the group called it quits in 1998.
A five-song concept EP, Archers of Loaf vs the Greatest of All Time, arrived on the heels of Icky Mettle in 1994. Amid growing media attention, Madonna's Maverick label made a play for the band, but they elected to continue developing on an independent, with lower commercial stakes. Their second album, the rawer and noisier Vee Vee, appeared in 1995 and was an even bigger college-radio hit, thanks in part to the single "Harnessed in Slums." The album landed in the CMJ Top Five, and even got some press from the hipper mainstream media outlets. In its wake, Eric Bachmann convened the Chapel Hill side project Barry Black, an eclectic, mostly instrumental outfit given to bizarre arrangements; their eponymous first album was also released in 1995.
Meanwhile, the Archers compiled a raft of non-LP indie singles, B-sides, alternate takes, and live cuts for 1996's The Speed of Cattle. Their proper third album, All the Nation's Airports, came out later that year and showed the band moving into quieter, more layered territory. Bachmann's second album with Barry Black, Tragic Animal Stories, arrived in 1997, as did the live Archers of Loaf EP Vitus Tinnitus. The band's fourth proper album, 1998's White Trash Heroes, continued its exploration of calmer, more spacious sounds, and began to incorporate keyboards and samples. However, their marathon touring commitments were contributing to a sense of stagnation within the group. After the supporting tour for Heroes, the Archers decided to call it quits. A live album recorded at that tour's Chapel Hill show, Seconds Before the Accident, was released posthumously in 2000. Bachmann moved on to the folkier Crooked Fingers, which issued the first of several albums in 2000 as well. ~ Steve Huey, All Music Guide