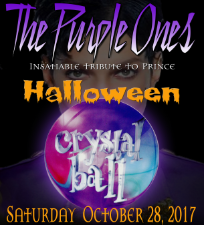 Additional Information
The Purple Ones Halloween Crystal Ball
His name was Prince. And he was funky!
Oakland California's The Purple Ones treat the music and patented vibe of Prince with the utmost respect, capturing the essence of what it was like to see Prince live. The musical dexterity of The Purple Ones - with 11 pieces on stage including a full horn section – completely turns the concept of a Prince tribute band on its head, delivering Prince's material live onstage in a way that has to be experienced to be believed.
Not a typical tribute band with a Prince look-alike or impersonator, The Purple Ones bring audiences to their feet, night after night, by speaking Prince's musical language; energy, rhythm, creativity and of course...a serious dose of unadulterated funk. The Purple Ones tap into that soulful artistry like none other.
The Purple Ones is a labor of love that was born in 2012 when Bay Area based bandleader and founder, Morty Okin ("The New Morty Show", co-founder of the Michael Jackson tribute "Foreverland" and Neil Diamond tribute "Super Diamond",) decided to focus all of his energy on building the greatest Prince tribute on the planet.
The Purple Ones have been selling out concert venues since their inception, growing a fan base over the years that include long time Prince Devotees and newbies that are just discovering the icon.
The Purple Ones' Musical Director is Prince's former Musical Director, bassist/guitarist and co-founder of Prince's "New Power Generation," Levi Seacer Jr. (1986-1993) Levi is the only Prince band member to have played multiple instruments and later, collaborated with Prince as a songwriter and Co-Producer on his projects. Now the lead guitarist and Musical Director of The Purple Ones, Seacer is determined to continue the musical legacy of his late friend and former band mate.
In the wake of Prince's untimely passing, this group of funky pros are more determined than ever to honor his past by playing his hits, B-sides and deep cuts live in a world- class show that is, in the words of Prince himself, "nothin' but a party!'
JaM Cellars Ballroom at Margrit Mondavi Theatre is UPSTAIRS in the historic Napa Valley Opera House in Downtown Napa
GENERAL ADMISSION & STANDING
Each person does require a ticket for entry. We welcome ages 8+ with children under 16 accompanied by an adult.
No Refunds. No professional cameras or outside food and drink.
There is no dining available in the Ballroom, but there is a Bar available for drink purchases. Patrons attending a show upstairs in the Ballroom are welcome to dine in the restaurant starting at 5:30 pm if the show(s) downstairs is not Sold Out or if there is seating available.
Due to the historic nature of the Ballroom, there are no bathrooms located upstairs. Facilities are located downstairs through the Blue Note Club and are accessible via stairs or the elevator.
Ear Plugs are available for free at the Box Office
Any special needs or accommodation requests, please call our Box Office.
Thank you, and we look forward to seeing you at the JaM Cellars Ballroom!
1030 Main Street, Napa CA 94559
Box Office: 707.880.2300 (Tues-Sat, 3:30-9:30 pm, Sun 1 hr before doors)

Processing your request, please wait....