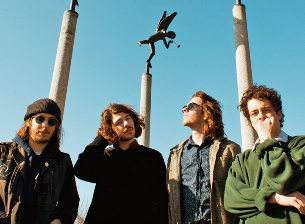 Empty Bottle, Inc
The Districts
Saturday, Dec 09, 2017 9:00 PM CST
Empty Bottle, Chicago, IL
21 years and over
Additional Information
THE DISTRICTS are a four-piece indie rock band from the small town of Lititz, Pennsylvania. The group formed in 2009 while members Rob Grote, Mark Larson, Connor Jacobus, and Braden Lawrence were still in high school. The prolific young band released their first EP, Kitchen Songs, in 2011, followed by Telephone, their debut full-length, the following year. Now into their third LP, Popular Manipulations, the band has represented an exponential leap in sound and cohesion, an impressive and impassioned burn with a wide scope that threatens to swallow everything else surrounding it.
The distinctly intense sound of Popular Manipulations—charging guitars, thunderous drumming, and Grote's searing vocals—was brought on by a few cited influences, from shoegaze's aggressive swirl to the Velvet Underground's impeccable drone-rock sound. There's a distinctly Canadian flavor to this brand of indie rock, too; Spencer Krug's anthemic, lushly inscrutable work in Wolf Parade and his defunct Sunset Rubdown side project comes to mind, as does 2000s Toronto barnburners the Diableros' overlooked 2006 gem You Can't Break the Strings in Our Olympic Hearts.
But don't mistake easy comparisons for a lack of originality: on Popular Manipulations, THE DISTRICTS are in a lane entirely their own, exploring lyrical themes of isolation and abandonment in a way that ups the music's already highly charged emotional quotient. A mix of jangly indie Americana and blues-inspired rock n' roll baby.


Processing your request, please wait....