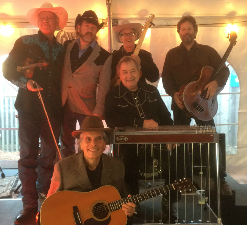 Additional Information
Napa Valley Opera House Presents:
BOBBY BLACK began his career on PEDAL STEEL in 1950. Playing California dance halls, heading to Oklahoma backing Web Pierce & Lefty Frizzell. He returned to CA in 1971, joining Commander Cody & His Lost Planet Airman. His list of collaborations his long including Maria Muldaur, Barbara Mandrell, Norton Buffalo, Elvin Bishop, Asleep at the Wheel & countless others.
MARK HOLZINGER is a true GUITAR virtuoso. Skilled in blues, jazz, rock, Gypsy Jazz & Brazilian styles. All of witch can be heard in his joyful improvisation. Mark was inducted into the Western Swing Hall of Fame on 2016.
Grammy nominated BASSIST PAUL KNIGHT has been backing Bay Area and national touring artist for over 20 years. He currently tours with the Peter Rowan Bluegrass Band, recently completing their latest recording for Rebel Records. Paul gathered some of his favorite musicians to form the Redhawk Swing Band in January of this year.
KEITH LITTLE fronts the band on GUITAR & VOCALS. Well know in bluegrass and country circles he spent his early years in pioneering California bluegrass bands. Performing with Rose Maddox in Theaters & Dance halls in the foothills & central valley. Bringing his skills as a musician & sougwriter to Nashville he joined Ricky Skaggs touring band & recorded on Dolly Parton's Grammy winning "The Grass is Blue". He's back home in the California Gold Country leading his "Little Band".
KEN OWEN is the kind of DRUMMER that's makes both musicians & audiences happy & moving. A founding member of the Ten Gallon Cats he's been on stage with Peter Rowan, Jim Lauderdale, Jinx Jones and countless others seeking the groove. Ken has authored two books; "Haiku Spring" & "The Zen of Ken"
When the band ALABAMA recorded "If Your Gonna Play in Texas You Gotta Have a Fiddle in the Band" they got BLAINE SPROUSE to be that FIDDLE. A native of West Virginia he really did learn from the masters. A short list of those includes; The Osborne Brothers, Jim & Jessie, Jimmy Martin & Kenny Baker.
Dance Instructions 7:30 pm / 8 pm start / 9 pm intermission
Sponsors:
Lagniappe Peak /City of Napa/Napa Valley Unified School District/Napa County Office of Education/Bell Products
JaM Cellars Ballroom at Margrit Mondavi Theatre is UPSTAIRS in the historic Napa Valley Opera House in Downtown Napa
GENERAL ADMISSION STANDING with Limited Seating
Each person does require a ticket for entry. We welcome ages 8+ with children under 16 accompanied by an adult.
No Refunds. No professional cameras or outside food and drink.
Due to the historic nature of the Ballroom, there are no bathrooms located upstairs. Facilities are located downstairs through the Blue Note Club and are accessible via stairs or the elevator.
Ear Plugs are available for free at the Box Office
Any special needs or accommodation requests, please call our Box Office.
Thank you, and we look forward to seeing you at the JaM Cellars Ballroom!
1030 Main Street, Napa CA 94559
Box Office: 707.880.2300 (Tues-Sat, 3:30-9:30 pm, Sun 1 hr before doors)

Processing your request, please wait....