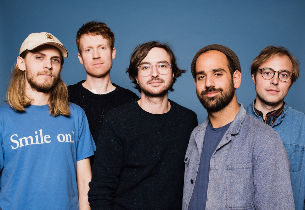 JMax Productions
Real Estate
Lucy Dacus
Saturday, Oct 28, 2017 8:00 PM PDT (7:00 PM Doors)
Jub Jub's, Reno, NV

Additional Information
Tickets are available locally at Recycled Records (S Virginia) or the Jub Jub's bar.
In Mind, the fourth full-length record from Real Estate, is a portrait of a mature band at the height of its power. Long respected for their deft lyrical hand and gorgeous melodies, In Mind builds upon the band's reputation for crafting perfect songs and carries Real Estate even deeper into the pantheon of great songwriters.
On the new record, the band fine-tunes the winsome songwriting and profound earnestness that made previous albums—2009's Real Estate, 2011's Days, and 2014's Atlas—so beloved, and pushes their songs in a variety of compelling new directions. Written primarily by guitarist and vocalist Martin Courtney at his home in Beacon—a quiet town in upstate New York—In Mind offers a shifting of the gears, positing a band engaged in the push/pull of burgeoning adulthood. Reflecting a change in lineup, changes in geography, and a general desire to move forward without looking back, the record casts the band in a new light—one that replaces the wistful ennui of teenage suburbia with an equally complicated adult version. The record not only showcases some of the band's most sublime arrangements to date, it also presents a leap forward in terms of production, with the band utilizing the studio as a tool to broaden the sonic landscape of their music to stunning effect.
As for the band's increasingly widespread appeal, both bassist Alex Bleeker and Courtney can only theorize as to what it is about their music that seems to strike such a profound chord with listeners. "I think there's an earnestness to what we do," says Bleeker. "It's coming from a truthful place of human experience, but it's also kind of raw. It evokes something for people, even though we are often dissecting subject matter that seems super normal and undramatic, it's also relatable. We all grew up with this common, cookie-cutter kind of American suburban experience and we can't help but write about that. I think there aren't a lot of people who actually write about that in a very forthright way."
Per bassist Alex Bleeker, the songs on In Mind reflect a kind of quiet ambition on the part of the band. A desire not to reinvent themselves, but rather to just be the best version of themselves that they can be. "We're never looking to overhaul anything in a huge way," he says, "But we do want to grow and explore new territory and use the studio in a different way. We didn't want to change anything arbitrarily, but it felt good to reach out into some more exploratory space while still holding on to what makes us Real Estate in the first place."


Processing your request, please wait....