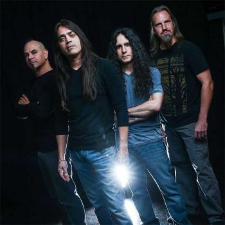 Shank Hall
Fates Warning
Sunday, Jun 25, 2017 8:00 PM CDT
Shank Hall, Milwaukee, WI
21 years and over
Purchase Tickets
Online sales no longer available for this event. Contact venue for ticket info. ph 414-276-7288
Similar Events
finding similar events...

Additional Information
Right from the impressive first minutes of their new album, Fates Warning proves itself to be one of those rare veteran bands capable of delivering new material as poignant and powerful as their many high points of the past. One listen to the textures, momentum, attack and emotion in "From The Rooftops," and it's apparent that the band who defined progressive metal with albums such as AwakenThe Guardian, PerfectSymmetry, Parallels and A Pleasant Shade Of Gray has plenty of new paths to travel... ...read more www.shankhall.com
Also appearing: Infinite Spectrun
New York City-based progressive metal band Infinite Spectrum has garnered rave notices and struck a chord with prog rock fans the world over. Closing a three-year gap since their acclaimed 2013 debut album, Misguided, INFINITE SPECTRUM's Sensory Records debut, Haunter Of The Dark is a full-length concept recording based on the short story by master of horror, H. P. Lovecraft, with the band bringing the famed short story to life through ambitious compositions featuring an abundance of dynamic, virtuosic playing, and powerful, melodic vocals. Re-teaming with Grammy award-winning engineer Chris Theis to capture their signature sound, with Haunter Of The Dark, INFINITE SPECTRUM has created a remarkable sonic journey for fans of prog both old and new. INFINITE SPECTRUM's Haunter of the Dark has been heralded in online outlets from PROG to Metal Underground and print magazines such as Rock N Roll Industries ("…completely captivating.") and Outburn ("9 out of 10"). INFINITE SPECTRUM has shared the stage with Haken, Thank You Scientist, Carl Palmer's ELP Legacy, Brand X, The Fringe and many more. Combining theatrical elements with the progressive metal genre, the band has crafted their own brand of musical storytelling, which includes elements of radio-style drama for a uniquely cinematic listening experience. The music of INFINITE SPECTRUM is eclectic, innovative, and experimental in nature. Their current line-up features Will Severin (vocals), Alex Raykin (guitar), Alex Repetti (bass), Greg Schwab (drums), and Katie Pachnos (keys).


Processing your request, please wait....