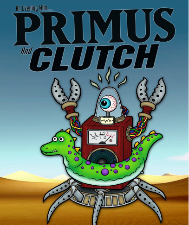 JMax Productions
Primus
Clutch
Thursday, Aug 17, 2017 7:30 PM PDT (6:30 PM Doors)
Hard Rock Hotel & Casino, Stateline, NV

Additional Information
Tickets are available locally at Recycled Records (S Virginia) and the Hard Rock box office (inside Hard Rock Casino).
Primus is all about Les Claypool; there isn't a moment on any of their records where his bass isn't the main focal point of the music, with his vocals acting as a bizarre side-show. Which isn't to deny guitarist Larry LaLonde or drummer Tim "Herb" Alexander any credit; no drummer could weave in and around Claypool's convoluted patterns as effortlessly as Alexander, and few guitarists would willingly push the spotlight away, like LaLonde does, just to can produce a never-ending spiral of avant-noise. All of this means that they are miles away from being another punk-funk combo like the Red Hot Chili Peppers; Claypool may slap and pop his bass, but there is little funk in the rhythm he and Alexander lay down. Instead, they're a post-punk Rush spiked with the sensibility and humor of Frank Zappa. Primus' songs are secondary to showcasing their instrumental prowess.
Their music is willfully weird and experimental, yet it's not alienating; the band was able to turn their goofy weirdness into pop stardom. At first, the band was strictly an underground phenomenon, but in the years between their third and fourth albums, their cult grew rapidly.
After a supporting tour wrapped up in 2000, Mantia left the band to join Guns N' Roses. Claypool talked about reuniting with former drummer Tim "Herb" Alexander in the press, but shortly afterward announced that Primus was going on indefinite hiatus. During the ensuing break, Claypool focused on recording the debut album by his side project, Oyster Head (who also included Copeland and Phish guitarist Trey Anastasio), as well as releasing his two-part solo outing, Live Frogs: Set 1 and Set 2. Primus reunited in 2003 with a lineup containing Herb Alexander to release an EP's worth of new material as a part of the Animals Should Not Try to Act Like People DVD set. The band focused on touring until 2010 when Alexander once again left the band. Claypool and LaLonde turned to former drummer Jay Lane, and the band went back into the studio to work on a new full-length. In 2011, Primus released their seventh album, Green Naugahyde. Three years later, the band followed up with Primus & The Chocolate Factory With the Fungi Ensemble, an album that found the band reuniting with former drummer Tim "Herb" Alexander to cover the iconic soundtrack to the 1971 film Willy Wonky and the Chocolate Factory.
Show is 16+ Unless Accompanied by an Adult


Processing your request, please wait....