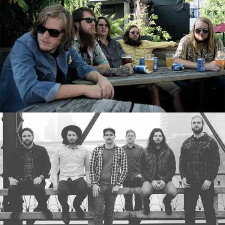 Shank Hall
Watching For Foxes, Folk Family Revival
Wednesday, May 24, 2017 8:00 PM CDT
Shank Hall, Milwaukee, WI
21 years and over
Additional Information
Folk Family Revival - Don't be fooled by the name, these guys are not a folk band! They may be best described as an alt-country/rock and roll band, but you don't have to listen long to hear the influence of Bob Dylan, Simon and Garfunkel, The Band, Donovan and many others that bridged the gap between the American folk scene and the Folk Rock scenes of the mid 1960s. They are a throwback to a time when southern rock and psychedelic music dominated the airwaves yet distinctively new and different. A band of brothers and a childhood friend from Magnolia, Texas, they are as comfortable opening arena's for Ted Nugent as they are opening for Willie Nelson, or playing some hipster club in Austin, their music simply strikes a chord with just about any audience. Though their previous album acquired much critical acclaim, this is a band that must be seen live to be fully appreciated.
Watching for Foxes is an apparition, an ode to tales of yore coming to vibrant yet elusive life here and now. Bending biography by infusing existential banter and folk motifs, the band is constantly pushing boundaries both sonically and lyrically in the pursuit of the portrayal of true feeling. Like a stack of old letters hiding deep in a drawer, tattered and rumpled from frantic use, the stories Watching for Foxes tells are equal parts cosmic myth and divine truth; memories you only unearth when you need to laugh, or cry, or on a rainy day lit up by a candle flame's pyre, or on the day that your home is bleeding and on fire.
...read more www.shankhall.com


Processing your request, please wait....