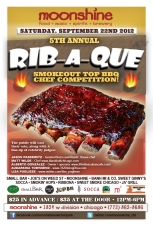 Moonshine
Chicago Rib-a-que Smokeout
Saturday, Sep 22, 2012 12:00 PM CDT 2012-09-22T12:00
- Saturday, Sep 22, 2012 6:00 PM CDT 2012-09-22T18:00
Moonshine, Chicago, IL

Purchase Tickets
We're sorry, there are no tickets currently available through TicketWeb.


Additional Information
The culinary gauntlet will be thrown down for a 5th A year at the Rib-a-Que Smoke-Out, Saturday, September 22nd from noon to 6 pm outside Moonshine Brewing Company (1824 W Division) in the heart of Wicker Park.  The Rib-a-Que is where many of Chicago's favorite restaurants compete with amateurs for the title of "Smoke-out Champion" and the coveted Gilded Grill trophy.
The Fest:
The Rib-a-Que pits BBQ rib aficionados against each other.  One ticket samples all the contestants.  This year's event figures to feature 1.5 metric tons of ribs, 1,000 hungry rib lovers and at least 16 fierce competitors!  With lots of Moonshine's renowned hand-crafted beers, brewed fresh on-site in the brewery, the Rib-a-Que is the perfect way to button-up summertime activities in Chicago.
The Contest:
It's culinary school vs. momma's family recipe, white table cloth vs. plastic, fine china vs. paper plates…and baby back ribs are the muse.  Competing chefs will set up shop in the spacious Moonshine parking lot to showcase their barbeque skills.  Each will feature their own take on BBQ baby back ribs, plus one side dish.  Discriminating foodies will taste several unique and savory rib recipes and help determine the overall winner.  The contestants vying for the Gilded Grill this year are TBA.  In 2011, the contestants included: Moonshine, Socca, The Fifty / 50, Smoke Daddy, SmallBar, Prasino, Frontier, The Bedford, Gayle St Inn, Red Herring as well as several others, with SmallBar and Red Herring taking home top honors in popular vote and judges vote, respectively. 
The Judges:
The public will cast their vote, along with a line-up of celebrity judges (TBA). Winners will be  selected again for both popular vote and judges vote.  1st place in each category (popular and judges) gets $700 and bragging rights to the Gilded Grill trophy!  Runner ups in each category get $350. 
The Tickets:
Tickets are $25 in advance or $35 at the door.  This event is "Rain or (Moon)Shine!!
PLEASE EMAIL MOONSHINECHICAGO@GMAIL.COM FOR A CONTESTANT FORM.  2012 PRIZE MONEY HAS DOUBLED!
About Moonshine Brewing Co.:
Moonshine Brewing Company is Chicago's true urban roadhouse experience.  Located in the heart of Chicago's Wicker Park neighborhood at 1824 West Division Street, 60622, Moonshine is known for its handcrafted brews, a fresh, locally-sourced menu and a rock-n-roll, no-frills atmosphere.   Phone: 773-862-8686. Hours of operation: Mon-3p-2a; Tue-Fri 11a-2a; Sat 10a-3a; Sun 10a-2a.  moonshinechicago.com.