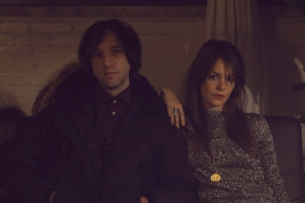 The Hundred In the Hands


with

One AM Radio

Wednesday, Jun 27, 2012 8:30 PM PDT
Echo, Los Angeles, CA
18 years and over
Purchase Tickets
We're sorry, there are no tickets currently available through TicketWeb.
Similar Events
finding similar events...

Additional Information
The Hundred In The Hands have emerged from their dimly-lit New York studio with a self-produced meditation on separation and reunion, love nearly lost and the long night back to it; a chronicle of late-hour pining awash in digital glow.
Red Night arrives in the form of an after-light transmission from a faraway source, leading the listener deep into the city's thrum. Following the release of their self-titled debut in 2010, Eleanore and Jason traversed the globe with the rambunctious electronic pop of that album before returning home to begin work on their next chapter.
"There was an idea, non-literal, about tuning into an almost supernatural plane, a space in the static between radio stations or the echo of tunnels or on lower bands where you begin to see something else moving". This is a city growing and unwinding, where sounds and memories delay against one another tracing themselves, devolving and reconstructing. Time stretches, tempos drop, guitars plunge several octaves rumbling and throbbing out against denser and denser vocals. It's an abstract, yet considered approach very different from their debut. Drawing from the cloudy digital ether of contemporary electronic and hip-hop production and New York City's long lineage of avant-garde dance music, Red Night is a rare sonic bridge between aesthetic encampments. From shadowy minimal techno to the more linear approach of classic songwriters, the DNA of these songs is indistinguishable from the finished works, such is the vitality and mystery at the core of the songs…and these are Songs first and foremost. Though they may be wrapped in brilliantly abstracted production, the calls of loneliness and hopeful abandon are what anchor everything to a startlingly human heartbeat.
"From the start there was a darkness that was coming out both lyrically and sonically, the songs were all heartbreak and fear of losing something special, trying to find that better light. It seemed there was this gloom in the air and I'm not sure we knew what to make of it. On the last record we were very much crate-digging and putting together all our favorite reference points, but this time we kind of disappeared into our own headspace and weren't listening to much. We tried to be more personal and honest knowing we wanted to make an album that felt like a unified whole, less like a collection of singles. When we began, we just didn't know what that meant exactly."
What it would eventually mean was that their music would explore many previously uninhabited spaces. Empty Stations and Recognise begin the album draped in Space Echo and lilting harmonics, deftly balancing low-end heft and delicate emotional melody. Red Night and Faded marry seamless songwriting with encompassing dropped guitars, sampled bells and overlapped processed vocals contrasting goth-Rn'B monster Stay The Night and the dense analog house-gaze of Tunnels. First single Keep It Low is a grinding jam that foregrounds the sounds of timeless Industrial and Krautrock tracks, whilst maintaining an undeniably affecting vocal performance from Eleanore. The emphasis throughout is on the overarching feeling, the thread that unites the entire album