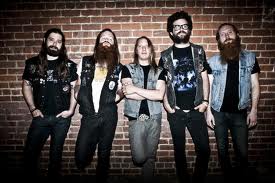 CQ / Rogue Presents
Valient Thorr


/

Holy Grail

/

Royal Thunder

/

The Kickass

Saturday, Jun 16, 2012 9:15 PM EDT 2012-06-16T21:15 (9:00 PM Doors)
Great Scott, Allston, MA
21 years and over
Purchase Tickets
Tickets are no longer available online for this show. Tickets will be available at the door on a first come, first served basis.


Additional Information
Get a free mp3 download from Valient Thorr! After your purchase you'll get a link to download "Sleeper Awakes". Enjoy!
If there is any hope that Rock N Roll can change the world, as Valient Thorr believe it can, people are going to have to start to get their own personal shit together first.
In what could be viewed as a single handed, spur of the moment effort to wrestle the phrase "personal responsibility" back from the Right, Stranger, the new album from intergalactic Rock N Roll saviors, Valient Thorr eschews direct frontal attacks on politicians and their wars and instead focuses inward on personal decisions and ethical living in the world economy.
Taking lessons from legions of like minded musicians and following the musical path Valient Thorr have traveled, Stranger broadens the boundaries of what is hard and heavy, aggressive and fierce, extending an invitation to a party to be enjoyed by the heshers, head bangers, stoner rockers, thrashers, skate punks, old schoolers and the truly hardcore.  If one were to imagine hearing a palpable buzz so engaging that is has its own gravitational pull, something so strong that as one is pulled closer, the buzz becomes a throb that seemingly doubles over on itself into infinity. This is the furious sound of Valient Thorr, a band whose entire being is founded and powered on the force of one huge, mass, communal headbang that has the power to deliver a unifying moment of clarity.
This may sound mystical, but in this case it is real, because as any dyed in the wool Thorrior will tell you, it is the energy of sweat soaked revelry, rather than electricity, that powers the amplifiers and drums that produce this hearty onslaught of all things future-past in the pantheon of high energy, heavy metal, ROCK n ROLL!  Screeching guitar leads, low end rumble, breakneck paces and feel good shout along hooks are made to exist together, often in a single song, proving that this is the only sound possible to deliver Valient Thorr's powerful message of positive change and transformation.
Anyone that has ever sweated and headbanged can get with this.
http://www.valientthorr.com
http://www.volcoment.com
http://holygrailofficial.com/
http://www.facebook.com/RoyalThunderMusic