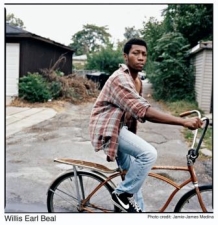 Aquarium Drunkard Presents
Willis Earl Beal


with

Emily Kokal

Wednesday, May 02, 2012 7:30 PM PDT
Echo, Los Angeles, CA
21 years and over
Purchase Tickets
We're sorry, there are no tickets currently available through TicketWeb.
Similar Events
finding similar events...

Additional Information
His proper debut album isn't out yet, but there's already an extensive mythology surrounding Chicago singer-songwriter Willis Earl Beal. He's got a booming, soulful voice and lives with his grandmother on the South Side. He doesn't have a day job. And, according to hand-drawn fliers he's plastered around the city, he'll sing you a song if you call him and draw you a picture if you write him. That's the story that was told by Leor Galil in the Chicago Reader last year, and all of it is still true today. Except now, he's signed to Hot Charity– an imprint of powerhouse indie XL (Adele, Vampire Weekend, M.I.A.)– which releases his LP, Acousmatic Sorcery, on April 3.
After the Reader story, Hot Charity head and renowned photographer Jamie-James Medina made Beal the label's first signee. They carted the 27 year old to New York, where he inked his contract, met Damon Albarn, drank champagne, and ate lobster sandwiches. As Beal puts it: "It was a thing." So while he's still singing to people over the phone, instead of going to his grandma's house, the calls are now routed to Beal's cell through a line set up by his management.
Acousmatic Sorcery was recorded between 2007 and 2009 and finds Beal trying on a variety of hats– soulful balladeer, acoustic troubadour ("Evening's Kiss", below), rapper, noise artist, gospel belter ("Take Me Away", above). Originally released in a limited edition by Found Magazine, Sorcery's scattershot approach and rudimentary instrumentals, along with Beal's "call me" backstory, had people pegging him as an "outsider artist" alongside Daniel Johnston and Jandek. And, as a fan of both men, Beal likes that distinction. "I'm glad I'm an outsider artist," he says. "I can do whatever I want to and people don't know what to expect."
But the tag and its implications are beginning to chafe against Beal's newfound noteriety. "Now, I feel like I'm in a rut because I am not living on what I consider to be the fringes," he says. And he's right: Beal is set to open for SBTRKT in some large U.S. venues after an upcoming European tour. Within months, he'll have gone from singing in Chicago train stations to opening at the House of Blues. He's still looking to move out of his grandma's house, though. "I want to be like the black Tom Waits–I don't want to make one kind of sound