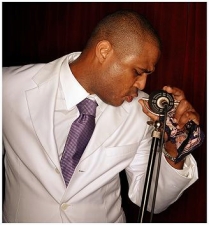 Tipitinas
Glen David Andrews & Paul Sanchez Rolling Road Show


featuring

Sonia Tetlow, and Mary Lasseigne


plus

Special Guests

Wednesday, May 02, 2012 8:00 PM CDT Doors
Tipitina's French Quarter, New Orleans, LA
18 years and over
Purchase Tickets
We're sorry, there are no tickets currently available through TicketWeb.


Additional Information
*** AT TIPITINA'S FRENCH QUARTER (233 N. Peters) ***
GLEN DAVID ANDREWS hopped down from an outdoor stage at
the New Orleans Jazz & Heritage Festival in May, leaving his
trombone behind. He sang in a powerful raspy voice, inflected with
just a hint of Louis Armstrong. Segueing from one song to another -
the controversial 1920s classic "Black and Blue" to the more
recent brass-band tune "Cell Block Nine," for example - he
sprinkled each with improvised lyrics. "It's my time," he shouted
between numbers.
Andrews, 30, has a lanky 6-foot-4-inch body and a mercurial
personality. The brass-band music and traditional jazz he was
raised on are still his greatest loves. "The musicians that played in
my neighborhood, they brought me out of the womb," he says, not
by way of metaphor. According to his mother, Vana Acker, when
she was pregnant, Anthony "Tuba Fats" Lacen, a traditional-music
icon and mentor to many musicians, came by and blew his horn
outside the house. He said the sound of the tuba would induce
labor. Glen David was born the next day.
As a young boy, whenever a second-line parade passed by,
Andrews tagged along with his older brother, Derrick Tabb, who is
now the snare drummer with the Rebirth Brass Band. Back then,
Andrews played bass drum. At 12, he picked up the trombone.
Rather than studying formally, he absorbed musical skills from
neighbors such as "Frogman" Joseph, Harry Nance, Harold DeJean
and other local heroes - "the cream of the crop," Andrews says.
Soon he was playing for money alongside Tuba Fats in Jackson
Square, in the middle of the French Quarter.
He was recruited into a brass band led by his younger cousin, Troy Andrews, and played in both the New Birth, Lil Rascals, and Tremé brass bands, among others, lending equal measures of musicianship and showmanship to each. Now he fronts his own high-powered ensemble that veers from traditional jazz to gospel, rock, blues and funk, all in the same show.
He's appeared in HBO's Treme, playing himself and performing one of his original tunes, Knock Wit Me. He has also appeared in numerous documentaries, including Faubourg Tremé: The Untold Story of Black New Orleans, by Lolis Eric Elie, Swiss filmmaker Peter Entell's chronicle of the controversial, post-Katrina proposed
closing of St. Augustine Church, Shake the Devil Off, and Spike Lee's two epics about Katrina, When the Levees Broke: A Requiem in Four Acts, and If Da Creek Don't Rise.
PAUL SANCHEZ is one of the most intriguing musicians in New Orleans. Never one to be catergorized or stay in the lines, he has a musical career as varied as New Orleans itself.

Sanchez is a vocalist, songwriter and guitarist. He was a founding member of the rock group Cowboy Mouth, and toured with them for 15 years.
Paul also recently found time to record his 6th post flood CD: 
Paul Sanchez and The Rolling Road Show -- Reclamation Of The Pie-Eyed Piper featuring Alex Mcmurray, Shamarr Allen, Craig Klein, Sonia Tetlow, Debbie Davis, Arsene Delay, Matt Perrine, Eric Bolivar and the legendary Washboard Chaz.
He resides in Treme and still lives, sings and breathes New Orleans.