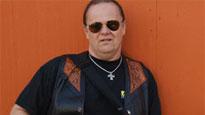 Iridium Jazz Club
Walter Trout
Friday, May 18, 2012 8:00 PM EDT
Iridium, New York, NY

Purchase Tickets
Pre-sale tickets are no longer available for this event. Tickets will be available at the door, or contact our box office at 212-582-2121 for further information.
Additional Information
Trout's passionate new Blues for the Modern Daze cuts right to the core of his art and his heart. His 21st album returns the contemporary guitar legend to his hard-core blues roots and finds his songwriting at a creative and personal zenith.
Trout's sixth recording for Provogue Records is his first pure blues album in 23 years as a bandleader, which is astounding given his heavy resume in the genre. Trout spent five years in John Mayall's Bluesbreakers and was a member of Canned Heat, two of the style's supremely influential bands. He's also supported a slew of classic artists including John Lee Hooker, Big Mama Thornton and Joe Tex. Nonetheless, as a front man the six-string virtuoso developed a conflagrant approach to his instrument and a reputation for tornado-strength live shows that led famed BBC disc jockey Bob Harris to call him "the world's greatest rock guitarist" in his influential book The Whispering Years and won Trout the sixth spot on BBC Radio One's list of the Top 20 guitarists of all time.
"I thought it would be exciting to make a blues album now," Trout explains. "I liked the idea of capturing the energy of my touring band playing live in the studio, and in terms of subject matter, the state of the world is perfect for writing blues songs."
And Trout is at the height of his game as a songwriter. With 2010′s Common Ground, he reached a new level of honesty and expression in numbers like the prayerful, plainspoken title track. Blues for the Modern Daze is electrified by that quality, bringing insight on the human condition to the yearning "Lonely," a song about isolation and estrangement in an age where personal relationships are replaced by virtual friendships on-line, and a perceptive sweep of the toll of climate change, conjuring visions of the Dust Bowl as well as the personal losses within today's crippled farm economy in the set's concluding number "Pray For Rain."
That finger picked solo acoustic performance gets directly to the bones of Blues for the Modern Daze. "My main inspiration for this album was the country bluesman Blind Willie Johnson," Trout explains. Johnson was an early blues innovator who recorded such timeless gospel informed blues numbers as "Soul of a Man" and "Nobody's Fault But Mine." "His music is so beautiful, primal, direct and deeply spiritual that I wanted to feel it at my back when we were cutting these songs."