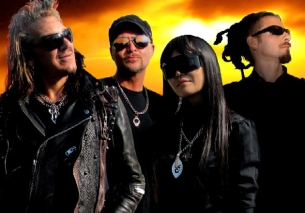 Shank Hall
My Life With The Thrill Kill Kult
Sunday, Jun 22, 2014 8:00 PM CDT
Shank Hall, Milwaukee, WI
21 years and over
Purchase Tickets
Online sales no longer available for this event. Contact venue for ticket info. ph 414-276-7288
Similar Events
finding similar events...

Additional Information
It was in the fall of 1987, in a neighborhood Chicago bar. Artist and performer Franke Nardiello met with newly transplanted Bostonian musician Marston Daley over drinks. They crafted a shocking and lurid film concept, MY LIFE WITH THE THRILL KILL KULT. Inspired by a shared love of tabloid tales of sex and Satan, kitschy horror and exploitation films in the style of Russ Myers, the concept came naturally. The name was ripped straight from a British headline Nardiello had noted while living in London. With limited experience and resources the film was scrapped, but work on its accompanying soundtrack continued. Legendary Chicago record label Wax Trax! Records were drawn by the hard beats, distorted vocals, rich instruments and bizarre film samples. They released a three song EP in 1988. The full--length album, I SEE GOOD SPIRITS AND I SEE BAD SPIRITS, followed the same year. People seemed to love it almost instantly, and so, their dreams of celluloid became a reality on vinyl.

In the spring of 1989, Nardiello and Daley took on the names Groovie Mann and Buzz McCoy (respectfully). They recruited band members from bar stools and created a back-up group of singers/dancers dubbed the BOMB GANG GIRLZ. They jammed the crew of nine into a van with musical and stage gear alike, and hit the road. The tour had a "Cabaret From Hell" vibe and it aroused the curiosity of the kids and media, establishing THRILL KILL KULT as one of America's premier industrial/electro acts.

They continued to fuel the underground club dance floors with tracks like "The Days Of Swine And Roses", "Kooler Than Jesus" and "A Daisy Chain 4 Satan". The Parents Music Resource Center (PMRC) was appalled. It wasn't long before Groovie and Buzz started experimenting, combining disco bass with wah-wah guitars and dabbling in big bad burlesque brass. The result was SEXPLOSION! (1991). It was lusty and dangerous, giving them their first taste of commercial success with "Sex On Wheelz" and attracting a whole new set of fans. ...read more www.shankhall.com


Processing your request, please wait....