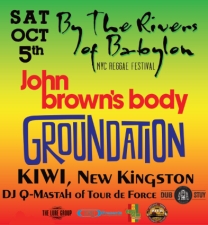 Purchase Tickets
Online sales for this event are now closed. Tickets are available at the site of the event. We look forward to you joining us!
Additional Information
John Brown's Body formed (in Boston in the mid 1990s) at a time when there wasn't what you'd call a U.S. reggae scene. The American bands that played reggae were regional at best, touring little, and many were primarily cover bands of the best known Jamaican reggae. JBB was one of a handful of groups that began touring nationally and created distinctly American reggae, steeped in traditional vibes but incorporating elements from other genres. Whereas most groups tackled typical reggae themes –religion and marijuana – JBB acted more like an indie band, writing songs that used the vocabulary of reggae to express their own experiences. Over time, this style has become the norm. The U.S. scene has grown tremendously – to the point of having two bands debut records in the Billboard Top 20 in 2012 – and many in the genre point to John Brown's Body as a key influence.
Bursting forth from their underground status, Groundation has taken the music world by storm. Capturing the essence and drive of true roots reggae, the internationally renowned band takes the art form to new heights by blending elements of jazz, funk, salsa, fusion and transcendental dub in a progressive amalgam of sound.

Kiwi
Northeastern US and Brazil, Kiwi has hit their stride with a new lineup featuring some of the New York City area's finest soul and funk musicians. The band, which includes Alex Tea (vocals, guitar), Ramsey Norman (drums), Matt Quinones (bass), Ben Guadalupe (percussion), Dave Stolarz (keys), Barami Waspe (tenor sax), Curtis Taylor (trumpet), and Rob Edwards (trombone), has been invited to share the stage with veteran reggae/ska acts including the Pietasters and John Brown's Body. 

Much of Kiwi's pan-global approach to music is inspired by the time that primary songwriter Alex Tea spent in Brazil, beginning with a trip to the ocean-side city of Fortaleza over a decade ago. It was in Fortaleza that Tea first fell in love with the Portuguese language and capoeira, the Brazilian 
martial art that combines exuberant dancing and singing with powerful strikes and take-down maneuvers. 

"What drew me into capoiera was the sense of community among everyone involved," says Tea. "Each roda [capoeira exhibition/match] had a live soundtrack that featured instruments, melodies, and cadences that I had never heard before, but seemed so familiar." It didn't take long for Tea, the grandson of a classical violinist, to incorporate Brazilian rhythms and instruments, as well as Portuguese lyrics, into Kiwi's music. 
www.kiwirootsmusic.com www.soundcloud.com/kiwirootsmusic  


By The Rivers of Babylon: NYC Reggae Festival *TIX AT DOOR ONLY $35*
featuring
John Brown's Body
,
Groundation
,
New Kingston
,
Kiwi
,
DJ Q-Mastah of Tour de Force (Dub-Stuy)
/
*TICKETS ARE AVAILABLE AT THE DOOR ONLY NOW*