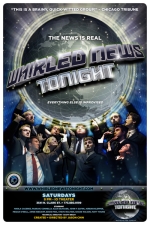 iO Chicago
Whirled News Tonight
Saturday, Sep 14, 2013 8:00 PM CDT
iO Theater , Chicago, IL

Purchase Tickets
Contact the iO Box Office at 773-880-0199 for more details.
Similar Events
finding similar events...

Additional Information
Whirled News Tonight presents "Newspeak" is an improvised show that is currently running at Chicago's famed iO Theater on Fridays and Saturday nights at 8:00 PM.
"Newspeak" is the first production for the Whirled News Tonight team and strives to not only provide a satirical turn on current events, but to provide another, human, point of view of those stories.
When the audience arrives they will be brought to a table with several local and national publications where they can cut out any articles they are interested in and tack them onto several bulletin boards onstage. The cast will randomly choose articles on which to base their improvisation.
Click here and fast forward to 4:45 to see what they're saying about Whirled News on WTTW's "Chicago Tonight"!
Starring: Marla Caceres, Alex Eilhauer, Eddie Pina, Steve Waltien, Matt Young, Shane Wilson, Megan O'Neill, John P. Glynn, Padraic Connelly, Arnie Niekamp, Adal Rifai, Brooke Breit
"...genuine rapport; articulate dialogue unfolds logically, swiftly, and concisely." - Chicago Reader
"...this is a brainy, quick-witted group!" - Chicago Tribune
"... nothing's too far fetched for the imaginative minds of 'Whirled News Tonight.'" - Chicago Sun Times
"With satire staples like news-rag The Onion, and the empires that are The Daily Show and The Colbert Report, a weekly improv show that selects random headlines from the week and performs scenes inspired by them might seem unneccessary, but Whirled News Tonight carves out their own niche by having the flexibility to go both hyper local and international in their scope. And while satire is the main thrust of the show, WNT's cast tends to be poignant as they are amusing- human-interest stories or dry business items frequently become engrossing scenes more ambitious than other theaters' entire shows. " - The Onion A.V. Club