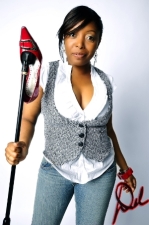 Purchase Tickets
Please call 212-757-4100 to make a reservation
Similar Events
finding similar events...

Additional Information
DEL HARRISON

When it comes to Del Harrison, Paul Mooney said it best, "This young lady has the IT factor."
She's so funny, Rosie O'Donnell opened for her. Well, actually Rosie stopped in to do a guest set right before Del went on, but still, Del killed it right after that. Del Harrison or DEL, as most people call her, is an excellent standup comedian, writer, actress, host and one hell of an entrepreneur. In 2009, DEL created Another Sketch Comedy Show, an online sketch comedy show and kicked it off by spoofing the Monique Show (BET). The Mo'Nique Show sketch was so hilarious that Mo'Nique personally called DEL and invited her to be on her show.
Since then, DEL's sketches debuted on The Big Screen at The San Diego Black Film Festival and have been featured on major websites, such as: VH1Access, BET, WorldStarHipHop, Bossip, MediaTakeOut, Sister2Sister Magazine, Hip Hop Wired and more. DEL also hosts a new online project titled The Del Harrison Rockout, a very funny weekly recap of reality shows that has built an amazing following in quite a short time. Combined, DEL's online projects have reached over 1.5 million views. And DEL has built quite a resume. In 2005, DEL was named one of the Best New Faces of Comedy at Jamie Foxx's Laffapalooza. Since then, she has appeared on Robert Townsend's Partners In Crime: Next Generation (Black Family Channel),ComedyCentral.com's Open Mic Fight Promo, CENTRIC Network's My Two Cents, WETv's Cinematherapy, XM Radio, GLOTV's The Gayest Ish Ever, Dr. Oz, FOX's The Mike & Juliet Show, ABC's The Revolution, Black Girls Rock Commercial, BET's The Mo'Nique Show & The Mo'Nique Show Commercial, VH1's Why Am I Still Single,
Warmed Up The Audience for The Oprah Winfrey Show and
in January, 2013, she debuted on MTV's MADE, hosting Caribbean Comedy Wednesdays, her weekly comedy show in Bronx, NY.
In 2011, DEL made her big-stage acting debut when she co-starred in and wrote for
the stage-play, After the Walk alongside Grammy-winner, Kelly Price. Since then, she's played the lead and supporting roles in 3 independent films. And she's diverse: headliner, singer, producer, actor and designer of her own clothing line called,"Cute
Chics Unite"; all while lending her talents the Holla Holla Radio Show every Sunday on NiteLineRadio.com, where's she a hit with thousands of listeners.
We could go on & on but we think it's safe to say, "When it comes to talent, DEL's got IT!"
www.DelHarrison.com

Groups over 12 please call 212-956-0101 x 203


Processing your request, please wait....