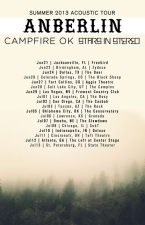 The Roxy Theatre presents
Anberlin Acoustic Tour FT

:

Anberlin


/

Stars In Stereo

/

Campfire Ok

Monday, Jul 01, 2013 7:00 PM PDT (7:00 PM Doors)
Roxy Theatre, West Hollywood, CA

Purchase Tickets
TICKETS ARE NO LONGER AVAILABLE.
Similar Events
finding similar events...

Additional Information
If you look up the word "vital" in that dictionary app you downloaded onto your phone, you'll discover that the word embraces a variety of meanings. Why are you looking this up? Because you should consider all possible interpretations of the title of Anberlin's sixth album, Vital. The disc follows the group's 2010 effort Dark Is The Way, Light Is A Place, paring down the musicians' musical tendencies and influences to their essential form and culling together Anberlin's decade of existence.
 The idea this time was to bring everything the musicians have learned while reinvigorating the music with the spark that initially fueled the Florida band during their early years of slogging around the country in a van. Stephen, in particular, was inspired by Anberlin's history of raucous live shows and aimed to infuse the new music with that palpable raw vigor. "I recognize now that what I love the most about Anberlin is the high energy, the high momentum, the veins that are popping from necks when the fans scream along," Stephen notes. "That's the most fun. That is where I feel like Anberlin exists, in those kind of situations. And I think that's where we excel."
 As the band embraced their roots, they also brought in new ideas, driven by the songs and albums the musicians had been listening to lately. The surging electro indie pop crafted by artists like Active Child and M83 trickled into the songs, melding the band's past with their present in a way that will still feel genuine to fans. "I feel like this record is like our interpretation of what we're into without completely abandoning what Anberlin is," Nate says. "For us this is the closest it could be to what we're kind of into without leaving behind everything that's made us the band we are."
 The members of Anberlin spent time penning music individually before heading into the studio with longtime producer Aaron Sprinkle. The band, which has always embraced the spirit of collaboration and democratic input, fostered an environment for all voices to rise to the surface, most recently notable in that of Nate, who wrote the basis of four songs that appear on Vital. The musician says, "I started trying different stuff – stuff what we normally wouldn't do – and some of it stuck really well and some didnt. I would get the gist of something and send it to Christian, Joey or Stephen just to get their opinion and we'd work from that. I just got inspired and wanted to do more than just play drums."
 Nate's ideas joined those of the other band members and Anberlin laid down the album over two sessions earlier this year, the first in Seattle and second in Nashville. Sprinkle, who helmed the group's first three albums, helped fuse the band's new predilections with past tendencies, building on his previous work with Anberlin. "We thought that with all we'd learned working with Aaron now seemed like perfect timing," Stephen explains. "Now that we know exactly who Anberlin is, now that we know exactly where we want to go in the future. We just felt like it was the perfect time to work with him again."