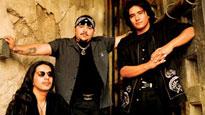 A Tom Moffatt Production
Los Lonely Boys
Tuesday, Apr 30, 2013 8:00 PM HST
Aloha Tower Marketplace, Honolulu, HI
21 years and over
Purchase Tickets
We're sorry, there are no tickets currently available through TicketWeb.


Additional Information
*** HAWAII CONCERT DATES POSTPONED ***
A member of Los Lonely Boys has been involved in an accident, forcing the postponement of upcoming dates including this weekend's Aloha Tower Marketplace and Kilohana Pavilion concerts.
New Hawaii show dates will be announced soon.
Your TICKETWEB purchase for Los Lonely Boys is being held in our system and your tickets will automatically be accepted on the new dates when they are announced.  Please stay tuned to your local radio and newspaper for information on the new concert schedule!
*****************************************************************
Los Lonely Boys bring their Tex-Mex blend of infectious Latino-Blues-Roots rock to The Waterfront at Aloha Tower on March 2nd at 8pm!
Their ever-expanding musical vision fills the set with new facets that further reveal the group's already notable artistic diversity with the release of their latest endeavor, "Rockpango."
Los Lonely Boys' tale to date is already the stuff legends are made of: Playing behind their father as kids in cantinas and honky-tonks. Moving to Nashville in their teens to try to win a record deal. Returning to their native Texas, where the brothers made their bones on the club scene as a live act. Releasing their self-titled debut, which goes double platinum, and penning a #1 radio hit in "Heaven."
Two more stellar studio albums followed: Sacred (2006) and Forgiven (2008). In 2009, they cut 1969, an EP that leaps back four decades to reveal how the group's roots extend well past their birthdates on songs by The Beatles, Santana, The Doors, Buddy Holly and Tony Joe White. 2010 brought about the release of Keep On Giving: Acoustic Live! a snapshot of their recent acoustic tour.
So after all that, what's left but to meet the new decade with the great leap forward, upward, outward and onward of Rockpango? "It was just time to grow and change," explains JoJo. "But not change too much. It's kind of like a tree. A tree doesn't actually change much as it grows. It gets taller, grows more branches, gets thicker and stronger.
"I think it's one of our best if not our best," he adds. "We took the ball and I think we scored a touchdown."
And after eight years of championship seasons, Rockpango paves the way for Los Lonely Boys to enter the rock'n'roll pantheon of legendary musical artists while also remaining true to themselves. "We're still Lonely Boys," JoJo insists, chuckling in agreement that they are also now Los Lonely Men who have truly come of age on their latest. "We're still family, we're still three brothers, we're still doing what the good Lord has blessed us with, and that's singing and and playing for people who really want to listen."
Original date: 3/2 at 8pm