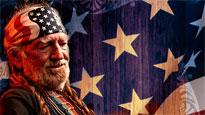 Varsity Theatre
WILLIE NELSON & FAMILY


featuring

www.willienelson.com

Tuesday, Jan 22, 2013 8:00 PM CST (7:00 PM Doors)
Varsity Theatre, Baton Rouge, LA

Purchase Tickets
This show is SOLD OUT! The Varsity Theatre thanks you for supporting live music in Baton Rouge. We are sorry for any inconvenience that this may cause but encourage you to find another show to attend!
Additional Information
Doors open at 7PM
Show starts at 8PM

*** THIS SHOW IS SOLD OUT ***
THIS IS A GENERAL ADMISSION, NON-SEATED SHOW.

THERE IS VERY LIMITED SEATING FOR THIS SHOW - APPROXIMATELY SIXTY (60) TOTAL SEATS

DUE TO THE LIMITED SEATING, NO RESERVATIONS FOR ANY REASON WILL BE MADE.

ALL SEATING IS FIRST COME, FIRST SERVED SO THOSE IN LINE FIRST WILL GET THE FIRST OPPORTUNITY TO GET SEATING.

IF YOU REQUIRE A SEAT DUE TO ANY ILLNESS, HANDICAP OR WEIGHT ISSUE, YOU SHOULD PLAN FOR A TICKETED, ABLE-BODIED PERSON TO WAIT IN LINE IN ORDER TO BE ONE OF THE FIRST TO ENTER THE VARSITY THEATRE TO SECURE SEATING.

NO OUTSIDE SEATING WILL BE ALLOWED AS THIS WILL MAKE THE ROOM OVERLY CROWDED.

WILLIE NELSON


www.facebook.com/

WillieNelson
www.willienelson.com
@willienelson
The title of Willie Nelson's solo debut on Blue Note Records, American Classic, refers as much to the man himself as to the storied Tin Pan Alley repertoire he explores on this elegant new set. While it's common now for mature pop artists to attempt to put their own stamp on the American Songbook, Nelson practically invented the approach. He set the standard for, well, playing the standards more t
han thirty years ago with Stardust, perhaps this "outlaw" entertainer's most daring move, an album that many industry pundits thought would get him laughed off the charts and out of the biz.

Instead, the Booker T. Jones-produced Stardust—which showcased material from the Gershwins, Duke Ellington, Hoagy Carmichael and Kurt Weill, among others, in spare, easy-going arrangements—became the most successful album of his career thus far. It reached #1 on the Billboard's Country Albums chart; racked up more than five million in sales; earned Nelson a Country Male Vocal Performance Grammy; and, most significantly, helped to transform a colorful, middle-aged cult figure into a mainstream star. Encouraging Nelson to record Stardust was Bruce Lundvall, now Blue Note's head, who had the prescience to sign Nelson to Columbia in the '70s and, thirty years later, offer him a home at Blue Note. Nelson's first effort for the label was his acclaimed 2008 collaboration with Wynton Marsalis, Two Men With the Blues, a spirited live set that debuted at #20 on the Billboard pop chart (Nelson's highest charting since Always On My Mind hit #2 in 1982).

Fans around the world know that the adventurous Nelson can sing just about anything—and with just about anyone he pleases. As he sees it, "The more songs you know, the more musicians you listen to, the more writers you hear, the better equipped you are to decide where you want to go next. That's why I want to listen to everyone and everything and then decide which way I want to go. Then, of course, I might change my mind and go in an entirely different direction. But at least I have all these options."