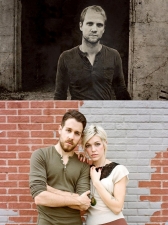 3rd and Lindsley
Andrew Ripp

plus

Elenowen

Thursday, Dec 13, 2012 8:00 PM CST (6:00 PM Doors)
3rd and Lindsley, Nashville, TN

Purchase Tickets
We're sorry, there are no tickets currently available through TicketWeb.
Additional Information
ANDREW RIPP:
To call Andrew Ripp a singer/songwriter is to leave something deep out of the equation. It's true. He sings. And when he sings, something catches in your chest and you wonder why your heart is reacting to what is coming in your ears. It's true. He's a songwriter. He intricately weaves words into stories that have somehow aged and ripened and are sweet to ingest.

But there is more. Maybe it has to do with the rock-infused tones that are ever present. Maybe it is more soulful than pop, or maybe it is more pop than soul? Or is it rock with some soul and a hint of pop with the songwriting of a well-lived life? Whatever you call it, Andrew has it.

A native of Chicago, Illinois, Andrew began this musical journey with simply a voice, a guitar, and an awkward fifteen-year-old view of the world. As he grew and matured, so did his music. Moving out to Los Angeles in 2003, doors soon opened for Ripp to record and work with rock producer Bob Marlette and write for pop star Ryan Cabrera.
ELENOWEN:
It's called 'chemistry', an elusive quality that can be part history, part mystery and all intangible until the moment that you feel it. It's a meant-to-be melding of the emotional and creative that can happen between songwriters, performers, best friends or life partners. For Josh and Nicole Johnson – the duo Elenowen – that connection is all of the above and much more.  And on their self-titled EP, the chemistry they share is as rare – and real – as it gets.
More and more, Elenowen are discovering that the truth of what they do is bringing them new fans nationwide. "I think audiences respond to our honesty," says Josh. "When we perform these songs, people get the feeling they know who we are, because that's what we're putting out there. We are the heart behind our music." For Nicole, the journey both starts and grows in a place of instinctive sharing. "When it's 3 AM and I have an idea for a song," she explains, "my best friend/music partner/husband can grab his guitar and the idea takes off. The songs that come out of those moments are part me, part him, and all us. When we formed Elenowen, I realized that I'm no longer a singer in the shadows. I'm now a half of something that means so much not only to us, but to other people as well."