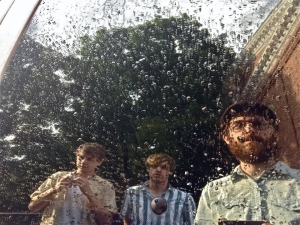 Similar Events
finding similar events...

Additional Information
"The foundations of Brooklyn's Woods lie in the small rear-house apartment bedroom of Jeremy Earl, who took to recording his eerily somber acoustic songs in 2005 as little more than a humble personal outlet. After two early albums and several singles which saw Earl still honing his sound, Woods released "Songs of Shame" in 2009 to widespread critical acclaim and offered the band a chance to develop their live sound on the back of a massive touring schedule. During this period, the live line-up solidified with the inclusion of multi-instrumentalist Jarvis Taveniere, bassist Kevin Morby and cassette-collage maestro G. Lucas Crane. While the band's early recordings had mixed haunting folk and distorted sound-scape journeys, their new live show offered Kraut-rock inspired fugues and Crazy Horse-style romps, infusing Earl's dirges with an off-kilter energy and a sense of looming chaos.


Processing your request, please wait....